In the past week, the Park! America Inc (OTCMKTS:PRKA) stock has emerged as one of the significant movers and has gone up by as much as 9% during the period. Considering the gains made by the stock, it may be a good idea for investors to consider taking a greater interest in Park! America.
Trading Data
On Wednesday, PRKA stock ended flat at $0.37 with 800 shares, compared to its average volume of 16.5K shares. The stock moved within a range of $0.3700 – 0.3700 after opening trade at $0.37.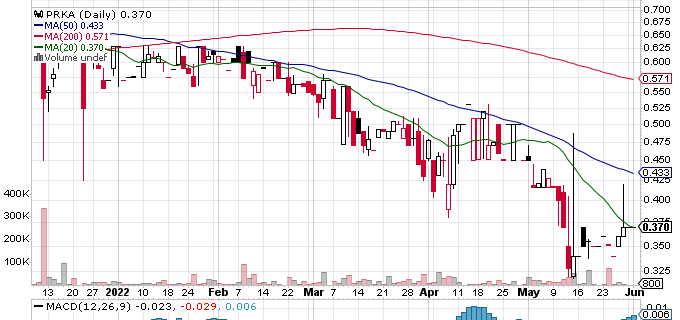 As a matter of fact, the company had come into the news yesterday after its Board of Directors made a major announcement. It was announced that the contract that the company had in place with Dale Van Voorhis had not only been updated but also renewed yesterday.
As per the latest provisions in the contract, Van Voorhis would be serving as the temporary Chief Executive Officer of the company and in the meantime, Park! America would be on the hunt for a new CEO. In addition to that, he is also going to continue to serve as the Chairman of the company and will remain an integral member of the management team of Park! America. It was an important announcement from the company and one that could be seen as a major positive by investors at this point.
Key Quote
"I am pleased with this new agreement and the Board's recognition of my efforts and achievements over the last 20 years," commented Mr. Van Voorhis. "We are well-positioned to continue the growth of the Company, building on the foundation we have created."
Technical Data
PRKA stock is trading below the 10-Day and 20-Day Moving averages of $0.38 and $0.43 respectively. Moreover, the stock is trading below the 200-Day moving average of $0.57.