Technology company DarkPulse Inc (OTCMKTS:DPLS) is best known for its work in the laser sensing systems space and yesterday it came into focus among investors after it made an announcement with regards to a key appointment.
Trading Data
On Thursday, DPLS stock fell 4.07% to $0.0259 with more than 12.24 million shares, compared to its average volume of 23.22 million shares. The stock moved within a range of $0.0252 – 0.0280 after opening trading at $0.0278.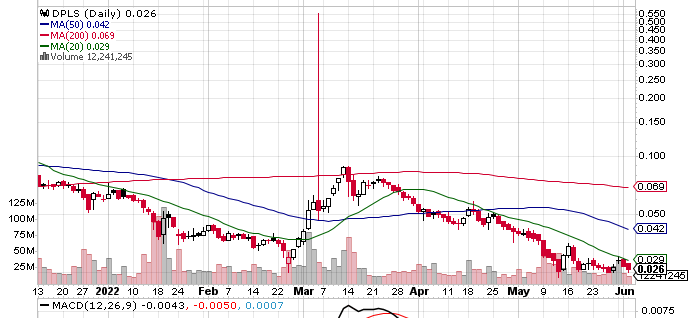 DarkPulse, Inc. Appoints Dr. Eng. Ehab M. Eldemeri as Director, Africa & GCC Countries
The company announced that it had appointed Dr.Eng. Ehab M. Eldemeri as the Director of its operations in Africa and GCC Countries. The appointment was clearly a crucial one for the company but it did not elicit much enthusiasm among investors and the DarkPulse stock suffered from a selloff to end the day with a decline of as much as 4%.
In this situation, it may be a good idea for investors to perhaps take a look at the credentials of Eldemeri and then make their minds up about the appointment.
He has been an entrepreneur in his own right and has also been an Artificial Intelligence Project Manager. In addition to that, in his career spanning more than 23 years, he has also worked extensively in the business development and optical systems domain. It of course remains to be seen how he gets on in his role at DarkPulse but it may just prove to be a good appointment.
Key Quote
"I am very pleased to announce that Dr. Eldemeri has joined DarkPulse as our Director, Africa and GCC Countries," said Dennis M. O'Leary, Chairman, and CEO of DarkPulse.
Technical Data
DPLS stock is trading below the 20-Day and 50-Day Moving averages of $0.0303 and $0.0422 respectively. Moreover, the stock is trading below the 200-Day moving average of $0.0691.