While there was no news about Propanc Biopharma Inc (OTCMKTS:PPCB) on Thursday, the investors may have reacted to the announcement from the company the day before. The Propanc stock was in the middle of a significant selloff yesterday as investors headed for the exits and ended the day with a decline of as much as 21%.
Trading Data
On Thursday, PPCB stock fell 20.73% to $0.0065 with more than 8.86 million shares, compared to its average volume of 3.35 million shares. The stock moved within a range of $0.0058 – 0.0082 after opening trade at $0.0081.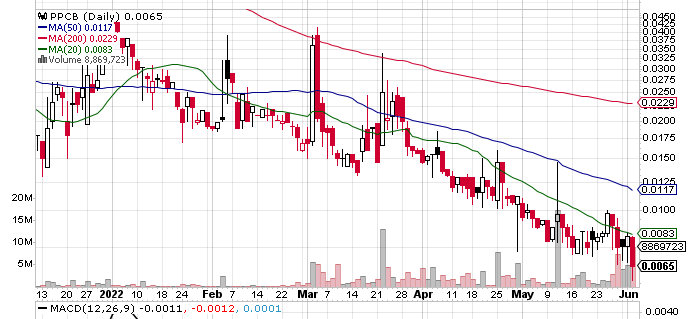 Propanc Biopharma Believes PRP Reduced Toxicity Will Impact Cancer Patient Lives Significantly
As it happens, the announcement from the company on Thursday was a positive one and it may be a good idea now for investors to take a closer look into it. Dr. Julian Kenyon who is the co-founder and Chief Scientific Officer of the company, made a major announcement with regards to the advantage of PRP when compared to standard cancer treatment.
He noted that since there was less toxicity in PRP, it could have a far more positive impact on cancer patients as opposed to traditional treatments. As is well known, many of the standard treatments for cancer may have considerable adverse effects and that impacts the lives of patients as well. Hence, the announcement from the Propanc CSO was an important one. However, it did not have any positive effect on the stock.
Key Quote
"We are developing a new cancer treatment to extend the life and reduce pain and suffering. Our vision is to provide therapies which are more effective than current therapies and safe, which avoid short-term side effects, such as loss of hair, and long-term effects, such as permanent damage to healthy tissues," said Dr. Kenyon.
Technical Data
PPCB stock is trading below the 20-Day and 50-Day Moving averages of $0.0886 and $0.0117 respectively. Moreover, the stock is trading below the 200-Day moving average of $0.0229.