ILUS International (OTCMKTS:ILUS), which operates as a holding company and owns a range of businesses, was in focus yesterday and saw its stock soar by as much as 10% amidst heavy interest.
Trading Data
On Thursday, ILUS stock gained 10.11% to $0.1100 with more than 8.48 million shares, compared to its average volume of 7.22 million shares. The stock moved within a range of $0.0944 – 0.1120 after opening trade at $0.1003.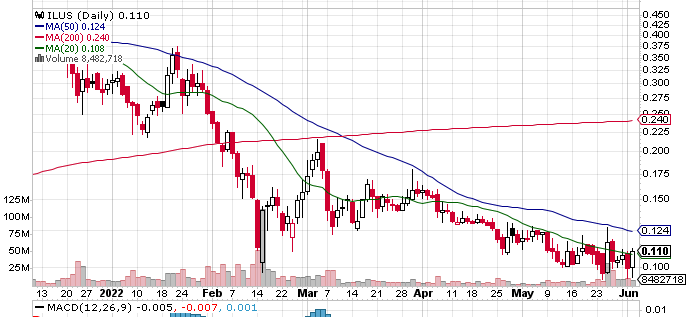 Emergency Response Technologies Inc, a Wholly Owned Subsidiary of ILUS International (Ilustrato Pictures International Inc), Confirms That It Has Acquired the Controlling Block of Wikisoft Corp. (OTCQB: WSFT)
The stock came into focus among investors yesterday after ILUS's fully owned subsidiary unit Emergency Response Technologies Inc made an acquisition. It was announced that the company had managed to pick up a controlling stake in the firm Wikisoft Corp. Wikisoft is a fully OTCQB reporting company and it trades under the ticker symbol WSFT. The announcement was welcomed by investors and that was perhaps the reason why the ILUS stock rallied as strongly.
The Chief Executive Officer of ILUS, Nick Link is going to assume the role of the Chairman of Wikisoft. In addition to that, other key executives at ILUS are going to take up board positions in Wikisoft. It seems that the acquisition of the controlling stake is being looked upon as a potentially important one for ILUS and its future. It may now be a good idea for investors to keep an eye on the ILUS stock and in the meantime, keep track of further developments.
Technical Data
ILUS stock is trading below the 20-Day and 50-Day Moving averages of $0.11 1.65and $0.12 respectively. Moreover, the stock is trading below the 200-Day moving average of $0.12.