There were a number of stocks that ended up with significant gains on Thursday and one of those was the GrowLife Inc (OTCMKTS:PHOT) stock, which ended up with gains of as much as 5% for the day.
Trading Data
On Thursday, PHOT stock gained 4.55% to $0.0115 with more than 3.97 million shares, compared to its average volume of 1.26 million shares. The stock moved within a range of $0.0107 – 0.0126 after opening trade at $0.0110.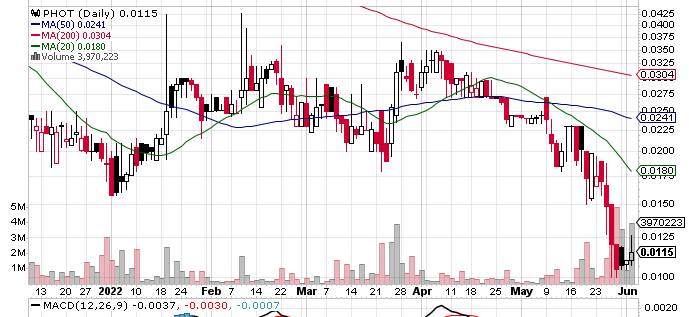 GrowLife Signs Definitive Agreement to Acquire Specialty Mushroom Company
The company came into sharp focus among investors after it announced that it had signed a definitive agreement with regard to the acquisition of Bridgetown Mushrooms. Bridgetown Mushrooms is one of the biggest producers of functional mushrooms in the United States and clearly the prospects of the acquisition came as a source of considerable excitement for investors.
GrowLife has ambitious plans in place for Bridgetown. At this point in time, Bridgetown is mainly known for operating as a major player in the Pacific Northwest.
However, GrowLife is looking to turn the company into a national brand. It was also announced that the acquisition is expected to be completed formally in the latter part of June. Bridgetown had been established back in 2018 and over the years, it has become one of the most well-known producers of exquisite mushrooms. It may now be a good idea for investors to add the GrowLife stock to their watch lists.
Key Quote
The acquisition of Bridgetown perfectly aligns with the new ethos of GrowLife" said newly appointed CEO Dave Dohrmann.
Technical Data
PHOT stock is trading below the 20-Day and 50-Day Moving averages of $0.0170 and $0.0241 respectively. However, the stock is trading above the 200-Day moving average of $0.0304.