Although the Brightrock Gold Corp (OTCMKTS:BRGC) stock was trading within a range on Thursday, it ought to be noted that the day before the company had made a significant announcement and that is something that investors need to be aware of.
Trading Data
On Thursday, BRGC stock increased 1.17% to $0.1557 with more than 62k shares, compared to its average volume of 178K shares. The stock moved within a range of $0.1525 – 0.1600 after opening trade at $0.1540.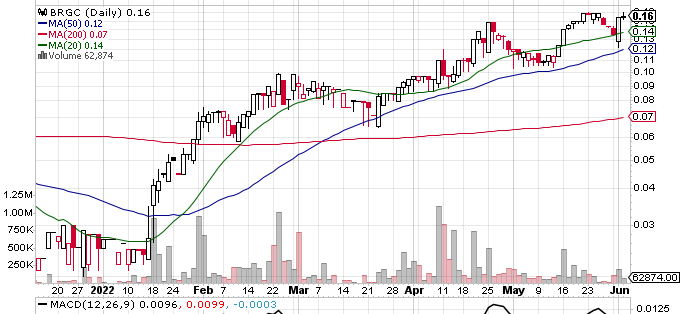 BrightRock Gold Corp Announces Completion of Lithium Mine Ownership Transfer
On Wednesday, Brightrock Gold Corp announced that it had been successful in taking 100% control Red Beryl Mining Company Inc. In addition to that, it was also announced that all the records are going to show Brightrock Gold Corp as the owner of the coveted Midnight Owl Mine property. The property is historically known for producing beryllium and lithium.
In this regard, it is also necessary for investors to keep in mind that the transfer of ownership was completed at a remarkably quick rate and that has put Brightrock Gold Corp ahead of its original schedule. The company noted yesterday that it is a major reason why it would be possible for Brightrock Gold Corp to move forward with its plans efficiently.
The company seeks to become a lithium mining company which sources its product entirely from the United States and this acquisition could well be a step in that very direction.
Technical Data
BRGC stock is trading above the 20-Day and 50-Day Moving averages of $0.14 and $0.12 respectively. Moreover, the stock is trading above the 200-Day moving average of $0.07.