Clinical stage biotech firm Advaxis Inc (OTCMKTS:ADXS) had a fairly tough time in the markets this past Friday as its stock went into a downward spiral and ended up with a decline of as much as 18% for the day.
Trading Data
On Friday, ADXS stock fell 14% to $0.0620 with more than 1.30 million shares, compared to its average volume of 483K shares. The stock moved within a range of $0.0620 – 0.0900 after opening trade at $0.0750.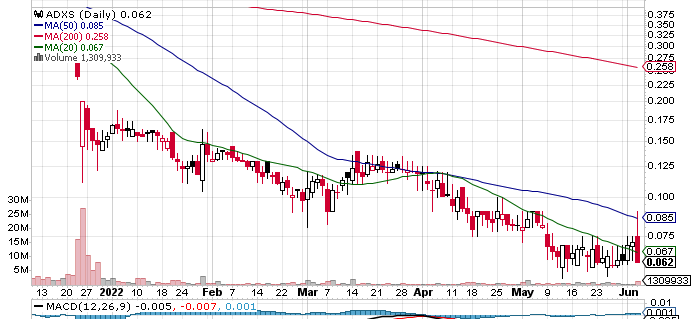 Advaxis, Inc. Announces 1-for-80 Reverse Stock Split
The company was in the news on Friday as well after it announced that it had completed the filing of a Certificate of Amendment in relation to its Amended and Restated Certificate of Incorporation. As per the aforementioned amendment, the company is looking to have a reverse stock split of its issued and outstanding common stock on the basis of a 1 for 80 ratio.
News of reverse stock splits is often seen as a negative by investors and perhaps the selloff that ensured in the stock was not particularly surprising. It was also noted that the reverse stock split would come into effect at 12 midnight eastern time on June 6.
In addition to that, the stock would start trading on a split adjusted basis from June 6 as well. It is likely that the Advaxis stock may garner considerable attention today and it may be a good idea to keep an eye on it.
Key Quote
"We believe that the Reverse Stock Split is an important step for the Company and its stockholders to optimize our position as we work to execute strategic initiatives across all fronts. Our management team and Board of Directors believe that it is in the best interest of our stockholders and the Company to implement the Reverse Stock Split in order to enable us to be prepared for success with our anticipated upcoming clinical milestones for our lead assets, ADXS-503 and ADXS-504," said Kenneth Berlin, the Company's President and Chief Executive Officer.
Technical Data
ADXS stock is trading below the 20-Day and 50-Day Moving averages of $0.0692 and $0.0854 respectively. Moreover, the stock is trading below the 200-Day moving average of $0.2577.