It may be a good move for investors to consider keeping track of the Elektros Inc (OTCMKTS:ELEK) stock this morning considering the fact that it had been one of the stronger movers this past Friday and had clocked gains of as much as 8%.
Trading Data
On Friday, ELEK stock gained 7.80% to $0.1186 with more than 2.42 million shares, compared to its average volume of 292K shares. The stock moved within a range of $0.1100 – 0.1640 after opening trading at $0.1190.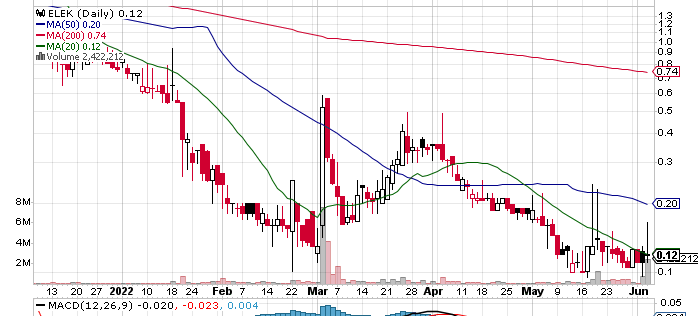 Elektros, Inc. (OTC: ELEK) Elektros Files Patent Pending for EV Portable Battery Technology
As it happens, the company was in fact in the news last Friday after it announced that it had handed in a patent pending to the United States Patent and Trademark Office. The application in question is for a highly innovative and unique portable charger battery which can be deployed on electric vehicles manufactured by all the popular electric vehicle companies.
It is an interesting product considering the fact that it is going to be made available in a form of a brief case and fitted with an extension cord. That will help consumers in putting in the extension cord into their vehicles at any time and at any place.
More importantly, the charges is perfect for keeping in the trunk of the car. It seems that investors are suitably excited at the prospect of the portable battery and it would be interesting to see if the Elektros stock can maintain the momentum in the coming days.
Technical Data
ELEK stock is trading below the 20-Day and 50-Day Moving averages of $0.13 and $0.20 respectively. Moreover, the stock is trading below the 200-Day moving average of $0.74.