Anyone looking into electric vehicle stocks at this point in time could do well to consider taking a look at the Envirotech Vehicles Inc (OTCMKTS:EVTV) stock, which had clocked gains of as much as 3% last Friday.
Trading Data
On Friday, EVTV stock gained 2.5% to $0.3047 with more than 509K shares, compared to its average volume of 352K shares. The stock moved within a range of $0.3000 – 0.3099 after opening trade at $0.300.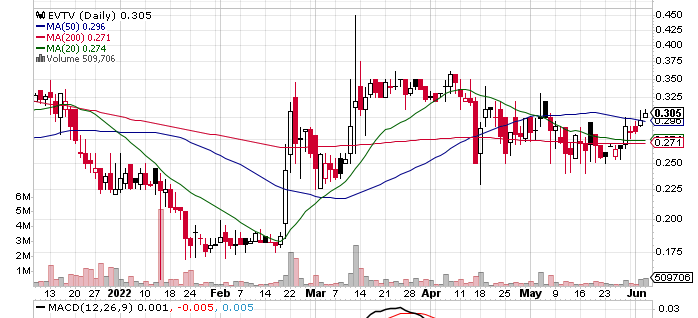 Envirotech Vehicles Partners with Olympus Construction for Renovation of State-of-the-Art Manufacturing Facility in Osceola
The company is involved in the manufacturing of purpose-built electric vehicles which are of the zero-emission variant. Last Friday, the company had come into focus after it announced that it had gone into a partnership with the company Olympus Construction for the purpose of renovating its modern manufacturing facility that is situated at Osceola.
The manufacturing facility in question spans an area of as much as 580000 square feet and hence, it is quite clear to see that the whole thing is going to be a major project for Envirotech. It has been estimated that the total cost of completing the renovation is going to be as much as $80 million. The renovation work is going to include updating several aspects of the facility and on top of that new machines as well as equipment are going to be purchased in order to boost the production capabilities of the facility. It remains to be seen if the stock can add to its gains today.
Key Quote
Phillip Oldridge, CEO of Envirotech Vehicles, commented, "We could not be more thrilled to partner with the experts at Olympus Construction to renovate our first U.S.-based manufacturing facility. Throughout 2022, we are making tremendous progress in pushing the transportation industry forward toward innovation. As we make this progress, we are fully committed to supporting local vendors, nonprofits, and community organizations. Since announcing our relocation to Arkansas in February of 2022, the Company has spent in excess of $100,000 a quarter supporting local businesses and community organizations. We at Envirotech are continuing to stand behind our promise to the community: Work Here, Live Here, Invest Here. This partnership is just the beginning as we continue to bring greener technologies and opportunities to Arkansas."
Technical Data
EVTV stock is trading above the 20-Day and 50-Day Moving averages of $0.28 and $0.27 respectively. Moreover, the stock is trading above the 200-Day moving average of $0.30.