Last Friday, the Transportation and Logistics Systems Inc (OTCMKTS:TLSS) stock was trading within a range and that was perhaps not surprising considering the fact that there was no news about the company at all.
Trading Data
On Friday, TLSS stock gained 2.86% at $0.0072 with 15.18 million shares, compared to its average volume of 12.31 million shares. The stock moved within a range of $0.0065 – 0.0072 after opening trade at $0.0071.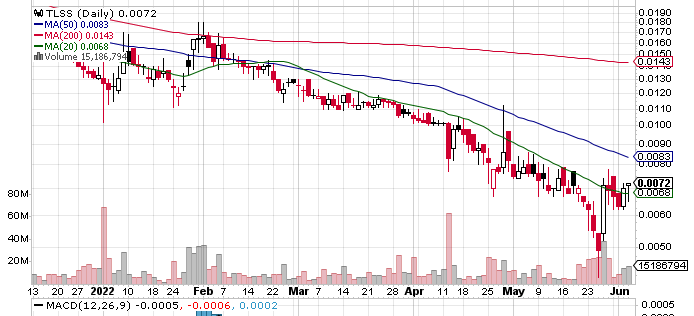 TLSS Announces Conference Call to Provide Corporate Update
However, earlier on in the week on May 31, 2022, the company had in fact come into the news cycle after it made a key announcement. The company announced that on June 8, it would hold a conference call for the purpose of discussing its operational results, future plans, and the acquisitions that it had completed. The conference call in question would begin at 11 in the morning Eastern Time.
It should be noted that on May 31 Transportation and Logistics Systems also announced that the dial-in instructions would be provided by way of a press release on June 7, 2022. It is going to be the very first live call that the company is going to host with Transportation and Logistics Systems shareholders and hence, it may be said that it could end up being a momentous occasion. It now remains to be seen if the Transportation and Logistics Systems stock gets any action in the lead up to the big day later on this week.
Technical Data
TLSS stock is trading below the 20-Day and 50-Day Moving averages of $0.0070 and $0.0083 respectively. Moreover, the stock is trading below the 200-Day moving average of $0.0143.