Last Friday, the Winning Brands Corporation (OTCMKTS:WNBD) stock ended up as one of the laggards as a fairly strong selloff led to a fall of as much as 6% for the day. Despite the fall in the stock price, it ought to be noted that the company made a fairly positive announcement on that day.
Trading Data
On Friday, WNBD stock fell 5.73% to $0.0007 with 16.50 million shares, compared to its average volume of 34.99 million shares. The stock moved within a range of $0.0007 – 0.0008 after opening trade at $0.0007.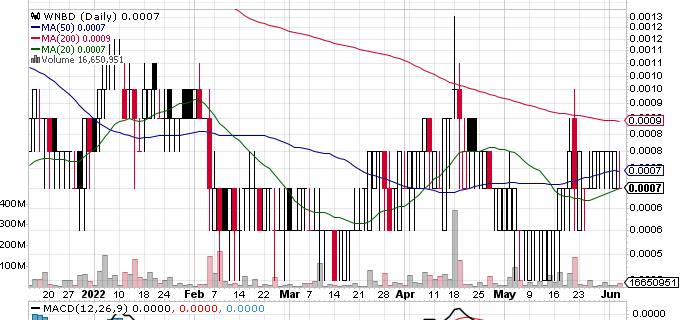 Winning Brands GestureTek Executives Attending Infocomm 2022 in New Marketing Push
The company announced that after it had received the court approval with regards to its acquisition of the GestureTek brand, it had decided to work swiftly with regard to the completion of the transaction. GestureTek is one of the leaders in the gesture control space.
In this context, it is also necessary to point out that the company had also announced on Friday that some of the more important executives at GestureTek are going to be in attendance at the InfoComm 2022 event that is going to take place from June 8 to June 10 in Las Vegas.
At the event, the executives are going to collaborate with some of the leaders of the AV industry in the United States and also try to come up with sales-related collaborations. It may be a good idea to keep the Winning Brands stock on your watch lists this week.
Key Quote
Winning Brands CEO, Eric Lehner, comments, "Our GestureTek Division management representatives at the conference, Vincent J. Vincent and Erol Vekil, will be connecting with existing industry partners, and making additional alliances, to map out a new growth curve for the GestureTek brand, and to stay at the leading edge of the technology for the benefit of our customers. Everything is moving fast now in our GestureTek initiative."
Technical Data
WNBD stock is trading below the 10-Day and 20-Day Moving averages of $0.0007 and $0.0007 respectively. Moreover, the stock is trading below the 200-Day moving average of $0.0009.