HUMBL Inc (OTCMKTS:HMBL) has been working on a wide range of products for quite some time and last week, the company was in the news once again after it made an announcement with regards to the launch of a new product. It may be a good time for investors to take a look into it.
Trading Data
On Friday, HMBL stock fell 1.02% to $0.0970 with more than 2.70 million shares, compared to a volume of 7.31 million shares. The stock moved within a range of $0.0962 – 0.0999 after opening trade at $0.0999.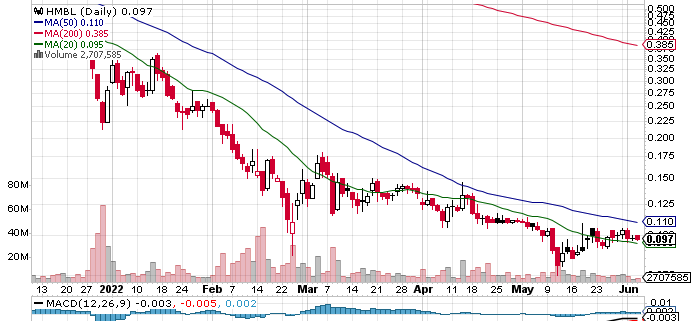 HUMBL Announces Launch of Search 3 Engine
The company announced that it had launched Search 3, which is a cross-chain search engine. The search engine is meant for use on Web 3, which is a decentralized internet and runs on blockchain.
The Chief Executive Officer of the company Brian Foote spoke about the fact that users often complain that it is often difficult to search things on Web 3. The launch of Search 3 is meant to address that specific problem.
Foote noted that the search engine is going to allow people a convenient entry onto Web 3. In addition to that, it ought to be noted that HUMBL has tried to build a whole ecosystem that could help the company in making matters easier for Web 3 users. Foote stated that the HUMBL Web Wallet is another product that is going to make life easier for users when navigating Web 3.
Key Quote
"The common complaints about Web 3 are that it is hard to find and the consumer tools are too complex," said Brian Foote, CEO of HUMBL. "With Search 3, we have provided a simplified front door to Web 3, along with a HUMBL Web Wallet that will simplify their journey."
Technical Data
HMBL stock is trading below the 20-Day and 50-Day Moving averages of $0.0987 and $0.1100 respectively. Moreover, the stock is trading below the 200-Day moving average of $0.3850.