Hemp-based products and food items company Verus International Inc (OTCMKTS:VRUS) saw its stock take a beating this past Friday as it ended the day with a decline of as much as 17% amidst a downward spiral. That being said, it is also necessary to note that there was no news at all about the company on Friday.
Trading Data
On Friday, VRUS stock fell 16.67% to $0.0010 with more than 88.13 million shares traded, compared to a volume of 26.09 million shares. The stock moved within a range of $0.0009 – 0.0012 after opening trading at $0.0010.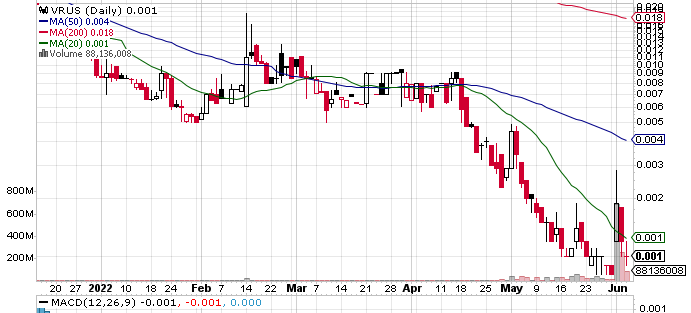 Verus Signs Joint Venture with Flörd, Provides Corporate Update
However, on Wednesday, the company had actually made an important announcement with regards to the establishment of a joint venture with the company Flord. Flord is best known for producing high-quality and rare CBDs.
It was a significant announcement from the company and investors could do well to take a look into it. As per the terms of the agreement between the two parties, Verus is going to have a 50% stake in the venture and it is going to be the exclusive distributor of Flord products for the United States market.
At this point in time, the plan is to launch a number of Flord CBD products over the course of the coming months. The joint venture has targeted as much as $3 million in annual sales. Despite the fall in the stock price it will be interesting to see if it makes a recovery this week.
Key Quote
"I am excited to team with Flörd to bring revenue growth back to Verus," explained Verus CEO Andy Dhruv. "The timing of this launch could not be better, as the rules governing these classes of products were recently relaxed, creating considerable excitement among retailers in this space. This is a true JV in the sense that both companies will bring their core strengths to the business – with Flörd providing the finished products and Verus managing distribution. Most importantly, we are coming to market with high margin, high demand SKUs at the right time to benefit from improved market trends."
Technical Data
VRUS stock is trading below the 20-Day and 50-Day Moving averages of $0.0012 and $0.0040 respectively. Moreover, the stock is trading below the 200-Day moving average of $0.0176.