The beverage sector is growing at a fairly fast clip at this point in time and Kona Gold Beverage (OTCMKTS:KGKG) is perhaps one of the better-known operators in this space. However, the Kona Gold stock did not get off to a good start this week and ended up with a decline of as much as 3% on Monday.
Trading Data
On Monday, SFIO stock fell 2.83% to $0.0224 with more than 1.40 million shares, compared to its average volume of 1.10 million shares. The stock moved within a range of $0.0211 – 0.0235 after opening trade at $0.0215.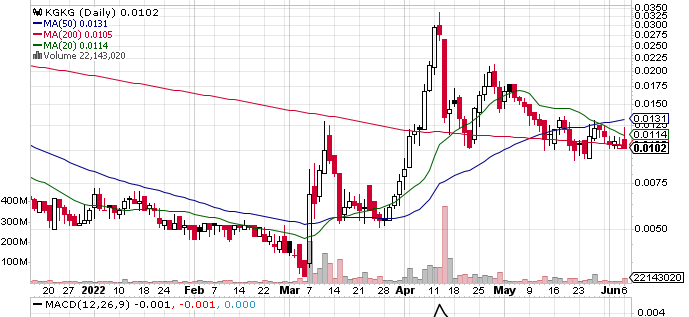 Kona Gold Beverage, Inc Post Highest Monthly Revenue in May
Despite the decline in the stock, it is necessary for investors to note that the company actually made a fairly important announcement yesterday and it may be a good idea to look into it. Kona Gold announced on Monday that for the month of May 2022, it had managed to record its highest monthly gross revenue in history.
It was announced that the combined gross revenue generated by all the subsidiaries stood at as much as $480,000 for the month of May. Gold Leaf Distribution LLC managed to bring in revenues of $345,000, while Kona Gold LLC managed to generate revenues of $135,000 for the month.
The revenues posted by Gold Leaf Distribution also happened to be the highest that it had posted in its history. The company further noted that it had experience considerable growth and could generate more revenues than it had in 2021.
Key Quote
"I am excited to report to our shareholders that the Company has posted its highest gross revenue month in Company history," stated Robert Clark, CEO of Kona Gold Beverage, Inc. "We continue to see month-over-month sales growth across our subsidiaries and our team continues to focus on new chain authorizations, new distribution partners, and growing market share. We are looking to hit 2021 revenues by the end of June, only halfway through the year, which is a testament to the success of our team and the mission to increase shareholder value."
Technical Data
KGKG stock is trading below the 20-Day and 50-Day Moving averages of $0.0116 and $0.0131 respectively. Moreover, the stock is trading below the 200-Day moving average of $0.0105.