Starfleet Innotech (OTCMKTS:SFIO) has been working on the development and expansion of its food and beverages business for quite some time. Yesterday, it provided an update with regards to the New Zealand-based café chain Epiphany Café, which is the parent company.
Trading Data
On Monday, SFIO stock fell 2.83% to $0.0224 with more than 1.40 million shares, compared to its average volume of 1.10 million shares. The stock moved within a range of $0.0211 – 0.0235 after opening trade at $0.0215.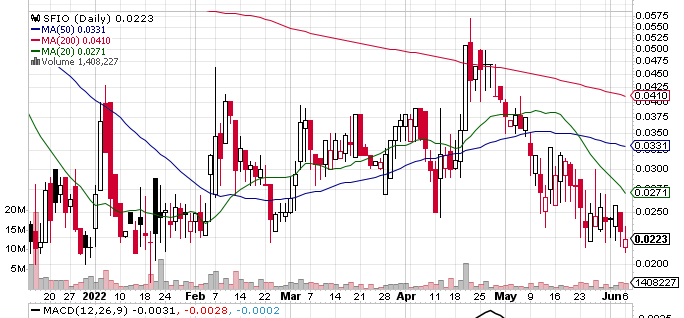 Epiphany Cafe doubles NZ locations, eyes four new locations in Malaysia
In the update, it was announced that Epiphany Café had managed to boost the number of locations by more than 100% over the course of the year so far. The growth was witnessed in the company's domestic market, which is New Zealand. However, the successful and rapid expansion has now given Epiphany Café the confidence to expand into the Malaysian market.
In addition to that, there are also plans in place to eventually move into the Philippines and United States markets by the end of the year. Starfleet is a company that is involved in investments at a global level and Epiphany Café remains the company's cornerstone for expansion in the food and beverages segment.
Yesterday's announcement with regards to the expansion plans of Epiphany Café was an important one and could bring the Starfleet sock onto the radars of investors. It remains to be seen if the stock gets any action today.
Key Quote
"At the beginning of the year, we mapped out a two-year roadmap for 200 new Epiphany Cafe locations across New Zealand, Australia, and Southeast Asia," said SFIO CEO and Co-founder of Epiphany Cafe Jeths Lacson.
Technical Data
SFIO stock is trading below the 20-Day and 50-Day Moving averages of $0.0274 and $0.0331 respectively. Moreover, the stock is trading below the 200-Day moving average of $0.0410.