Yesterday Major League Football (OTCMKTS:MLFB) made a significant announcement with regards to the 2022 season but it did not quite manage to have a positive effect on the stock, which declined by as much as 5%.
Trading Data
On Monday, MLFB stock fell 4.53% to $0.0253 with more than 1.32 million shares, compared to its average volume of 2.17 million shares. The stock moved within a range of $0.0243 – 0.0295 after opening trade at $0.0295.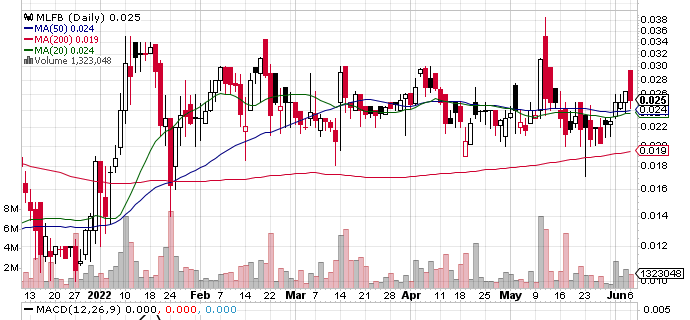 Major League Football (MLFB) Announces First Two Cities for Inaugural 2022 Season
The company announced yesterday that the cities of Virginia Beach, Virginia, and Canton, Ohio are going to be its home markets for the inaugural season. The first season of Major League Football is going to begin on August 9 this year and the announcement of the home markets was a significant development. However, at the same time, it can be said that investors were not particularly happy with the announcement.
Frank Murtha, who is the Chief Executive Officer of Major League Football spoke about the latest development as well. He noted that the announcement of the home markets was a major step in the league's mission to bring top-quality football to the communities.
He went on to note that in addition to making high quality available to the local people, the league was also looking to help in developing coaches, players, officials, and assorted front personnel who are essential to the game. It remains to be seen if the stock can make recovery any time soon.
Key Quote
"For months, we've preached to our stakeholders that Patience Is Strength," stated MLFB CEO Frank Murtha. "Today, with the announcement of two of our 2022 home markets, MLFB is closer than ever to fulfilling our mission of bringing exciting quality football to the communities we serve while cultivating the development of players, coaches, officials, and front office personnel."
Technical Data
MLFB stock is trading below the 20-Day and 50-Day Moving averages of $0.0236 and $0.0240 respectively. Moreover, the stock is trading below the 200-Day moving average of $0.0195.