Sports nutrition and nutritional supplements providing leader MusclePharm Corporation (OTCMKTS:MSLP) is a company that could be of interest to investors today in light of the announcement made by the company on Monday.
Trading Data
On Monday, MSLP stock ended flat at $0.21 with more than 269k shares, compared to its average volume of 36K shares. The stock moved within a range of $0.1510 – 0.2675 after opening trading at $0.2675.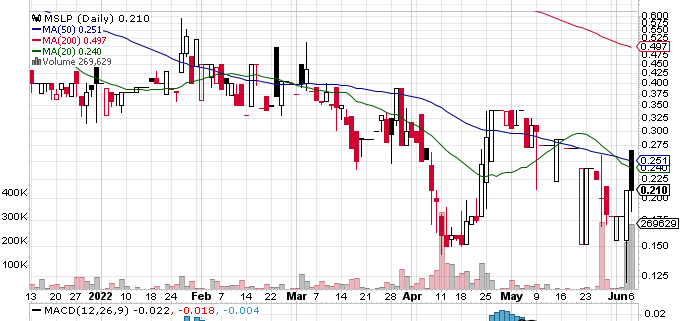 MusclePharm Announces Private Placement of $2.5 Million Senior Secured Notes
The company announced yesterday that it had decided to raise its October 2021 offering in light of the fact that it had managed to enter into a definitive agreement with accredited and institutional investors. In the offering, the company is now going to be able to issue and then sell additional Senior Secured Notes as well as warrants. As per the provisions of the agreements signed by MusclePharm, the company will now be able to sell original issue discount secured notes to the tune of an additional $3081875.
That amount represents a 20% rise from the original size of the offering. That sale of senior secured notes for that extra amount is expected to bring in proceeds of $2,465,500 for MusclePharm. It should be noted that the notes are going to become due in six months' time.
At this point in time, it is going to be interesting to see how investors react to the news of MusclePharm raising the size of the offering.
Technical Data
MSLP stock is trading below the 20-Day and 50-Day Moving averages of $0.23 and $0.25 respectively. Moreover, the stock is trading below the 200-Day moving average of $0.50.