One of the companies that saw its stock deliver notable gains was Cytta Corp (OTCMKTS:CYCA) as it ended the day with gains of as much as 6% following a major announcement. The company announced yesterday that it had been successful in launching the latest generation of its Incident Global Area Network (IGAN) command system.
Trading Data
On Monday, CYCA stock moved up 5.45% to $0.1370 with more than 112K shares, compared to its average volume of 111K shares. The stock moved within a range of $0.1300 – 0.1600 after opening trading at $0.1375.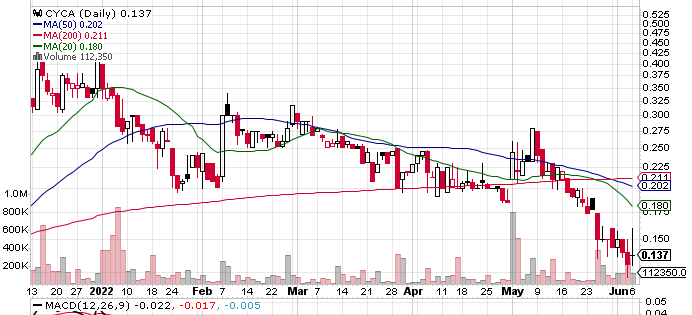 CYTTA CORP Releases Fully Integrated Multimedia Connectivity Platform and SAAS Based Version 2.0 OF IGAN
The company claimed to have conducted revolutionary redevelopment work on the system and the latest version is a fully integrated platform that helps with multimedia connectivity. The platform offers a wide range of features and also provides an interactive mapping feature that is of an advanced level.
Gary Campbell, who is the Chief Executive Officer of the company, spoke about the work that had been put in by the company towards this redevelopment as well. He noted that Cytta Corp had conducted extensive beta testing work on the product and had completed it through specific inputs that had been provided by first responders.
The announcement about better and improved products seems to have come as a major boost for investors and that possibly led to the rally in the stock. Investors could do well to add the stock to their watch lists.
Key Quote
"IGAN Version 2.0 is the result of our extensive beta testing and was completely redeveloped with hands-on input from first responders to meet and exceed the needs of every first responder operating in the U.S.," said Gary Campbell, CEO of Cytta Corp.
Technical Data
CYCA stock is trading below the 20-Day and 50-Day Moving averages of $0.17 and $0.20 respectively. Moreover, the stock is trading below the 200-Day moving average of $0.21.