Investors who may be looking into crypto-related stocks this morning could consider taking a look at the Alltemp Inc (OTCMKTS:LTMP) stock, which had emerged as a major gainer on Monday and clocked gains of as much as 12% amidst heavy interest.
Trading Data
On Monday, LTMP stock surged 11.94% to $0.0180 with more than 83k shares, compared to its average volume of 37K shares. The stock moved within a range of $0.0180 – 0.0220 after opening trade at $0.0220.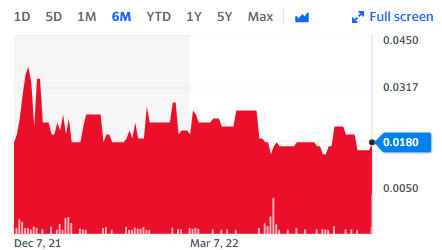 Key Details
As it happens, the company made a major announcement yesterday and it is easy to see why the stock rallied. The company announced yesterday its immersion-cooled crypto mining operation had been deployed and was completely operational. It was a significant announcement from the company and the excitement among investors was completely understandable.
Alltemp also claimed that the full deployment of the operation was going to set it up for long-term success. It was noted that at this point it had 6Gh/s that was online.
However, Alltemp was in talks for acquiring 11Gh/s more in the course of the coming 60 days. However, that was not all. The company further announced that it was looking to complete the acquisition of as many as 200 Bitcoin AntMiners in the upcoming months. However, those purchases were going to be dependent on the capital situation at Alltemp. It may be a good move to keep track of the stock today.
Key Quote
"The launch of our mining operation sets the stage for the Company's goal of becoming a multi-faceted technology company beginning with a foundation as a holistic digital marketing, online advertising, and data storage and management company, with long-term plans to offer personalized e-commerce solutions through a native web browser," stated Ted DeFeudis, CEO.
Technical Data
LTMP stock is trading above the 20-Day and 50-Day Moving averages of $0.0177 and $0.0179 respectively. However, the stock is trading below the 200-Day moving average of $0.0263.