Reflect Scientific Inc (OTCMKTS:RSCF) is an interesting company, which is best known for providing a wide range of services and products to the transportation, biotech, and pharmaceutical sectors.
Trading Data
On Monday, RSCF stock gained 6.67% at $0.12 with 61k shares, compared to its average volume of 41K shares. The stock moved within a range of $0.1200 – 0.1299 after opening trade at $0.1250.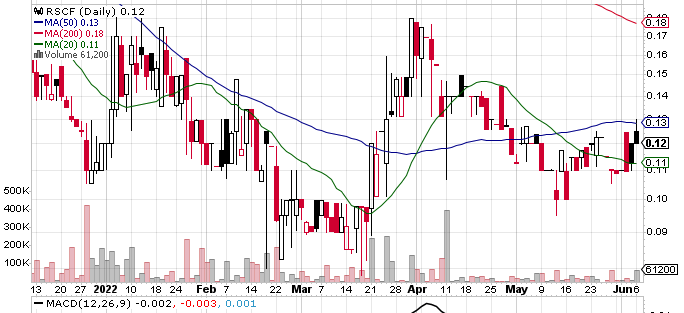 Reflect Scientific Inc Receives Patent for Green Cooling Technology
After the company made a major announcement on Monday, its stock came into sharp focus among investors and ended up with gains of as much as 17% for the day. The company announced yesterday that it had been awarded the patent for a revolutionary system. The patent in question is titled "Completely green system for cooling refrigerators, freezers and air conditioners that does not use HCFCs or CFCs".
The possibility of the introduction of a completely new and unique product led to a wave of optimism among investors and that was the reason behind the rally that was seen in the Research Scientific stock on Monday. The system that has been built by the company deploys the Cyrometrix temperature control system that Research Scientific had developed.
In addition to that, the system also uses liquefied air and liquid nitrogen. The demonstrations conducted by the company internally have shown that the system is not only effective but also cost-effective. Can the stock add to its gains today or will the investors book profits?
Key Quote
"This is a significant opportunity for us." remarked Mr. Kim Boyce, CEO, Reflect Scientific Inc, "There is a huge market in the trillions of dollars for our system in household refrigeration and air conditioning as well as many Institutional and Industrial applications that are currently using HFCs. The federal government has also set out to reduce emissions of HFCs by purchasing alternatives whenever feasible and transitioning to equipment that uses safer and more sustainable alternatives to HFCs."
Technical Data
RSCF stock is trading below the 20-Day and 50-Day Moving averages of $0.12 and $0.13 respectively. Moreover, the stock is trading below the 200-Day moving average of $0.18.