Emerging leader in the solar utility and finance space, Green Stream Holdings Inc. (OTCMKTS:GSFI) had earlier announced about re-engaging a nationally known full-service engineering solutions provider (KMB Design Group) with vast international expertise in the solar renewable energy field providing photovoltaic design and engineering services. The purpose was to help the company install extra ground-mount solar farms.
Trading Data
On Monday, GSFI stock soared 33.33% to $0.0008 with more than 460.08 million shares, compared to its average volume of 23.45 million shares. The stock moved within a range of $0.0005 – 0.0009 after opening trade at $0.0006.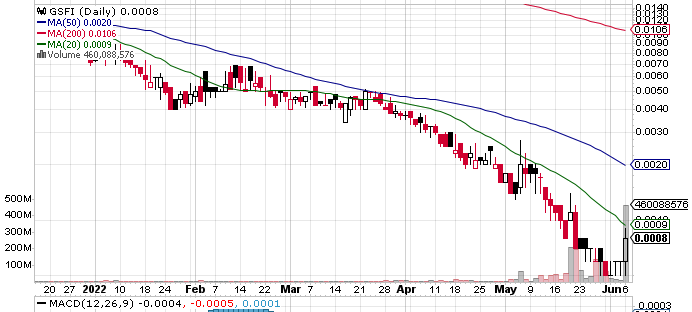 Key Details
Green Stream Holdings announced on June 6th, 2022, about signing a Letter of Intent to provide the required funding for the All Faiths Cemetery Solar Facility Project. This is a multi-million dollar deal being financed by the company, to cover equipment and installation expenses. It has been green-lighted by The New York City Department of Buildings for compliance with all applicable zoning and construction regulations.
KMB Design Group is drawing up the necessary work plans. To date, it has provided designs and engineering services for more than 1,000 projects and completed 1,500 MW for a wide range of solar installations from small to large scale. The company had earlier contracted KMB to have them conduct solar feasibility studies in New York. The study is to find out the most efficient configuration for the arrays, estimated production matters, utility interconnect feasibility & process, along with identifying any potential incentive programs.
Technical Data
GSFI stock is trading below the 20-Day and 50-Day Moving averages of $0.0010 and $0.0020 respectively. However, the stock is trading below the 200-Day moving average of $0.0106.