SmartCard Marketing Systems Inc (OTCMKTS:SMKG) had a harsh start to the week in the markets as the company's stock suffered from a strong selloff and ended the day with a decline of as much as 21%. Despite the sharp fall in the stock price, it ought to be noted that on Monday SmartCard Marketing Systems made a fairly important announcement.
Trading Data
On Monday, SMKG stock fell 20.70% to $0.0222 with 18K shares, compared to its average volume of 25K shares. The stock moved within a range of $0.0221 – 0.0222 after opening trade at $0.0221.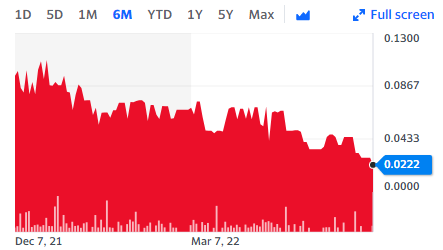 SmartCard Marketing Systems Inc (SMKG:OTCQB) is Pleased to Announce Entering a Joint Venture Partnership with Aces Group LLC, DBA: KanaCash, Africa
The company announced yesterday that it was going to go into a joint venture partnership with KanaCash. KanaCash is the biggest financial technology company in Africa and the development was a significant one. However, it seems that investors did not quite like it and headed for the exits.
As per the terms of the joint venture partnership, SmartCard Marketing Systems is going to provide KanaCash access to its intellectual property portfolio. This is going to help KanaCash in creating a digital wallet-enabled marketplace that is going to connect customers and merchants based out of Africa.
In this way, the customers and merchants are going to get a unique solution with regard to digital payments. The joint venture is going to be working in a market that remains largely untapped at this point.
Technical Data
SMKG stock is trading below the 20-Day and 50-Day Moving averages of $0.0460 and $0.0556 respectively. Moreover, the stock is trading below the 200-Day moving average of $0.0654.