On Tuesday, Jones Soda Co (OTCMKTS:JSDA) was in considerable focus among investors and is likely to be in focus today as well given that the company's stock managed to clock gains of as much as 31% yesterday.
Trading Data
On Tuesday, JSDA stock soared 30.85% to $0.2850 with more than 362K shares, compared to its average volume of 297K shares. The stock moved within a range of $0.2550 – 0.3500 after opening trade at $0.3000.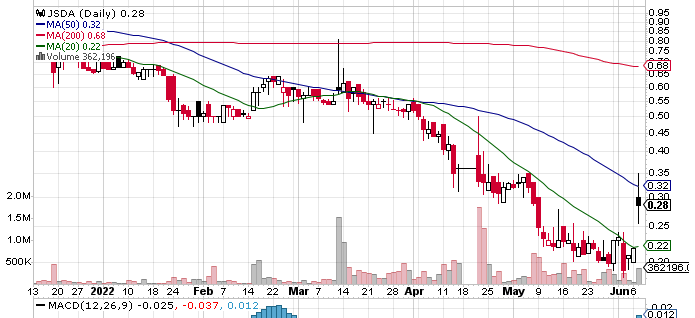 Key Details
Yesterday, the company along with Simply Better Brands Corp announced that due to unfavourable market conditions the two companies decided to cancel the letter of intent about a transaction. The letter of intent had been announced by the two companies back on April 21, 2022. The Chief Executive Officer of Simply Better Kathy Casey spoke about the situation as well.
She noted that the market conditions had prompted the company to walk away from the transaction. However, she was quick to add that the company had been confident about the Jones Soda brand and believed in the fact that it was going to add considerable value to its existing platform.
Mark Murray, the Chief Executive Officer of Jones Soda noted that he was confident that Jones Soda and Simply Better Brands were going to continue to explore the possibility of discovering more business opportunities in the future. The news came as a source of significant optimism for market participants.
Key Quote
"We are disappointed that due to current market conditions we are unable to move forward with our intended transaction at this time. The Jones Soda brand is one we felt confident would add tremendous value to our existing platform and ultimately be accretive to shareholder value. We wish Jones management and their board much success in their future", says Kathy Casey, CEO of Simply Better Brands.
Technical Data
JSDA stock is trading below the 20-Day and 50-Day Moving averages of $0.24 and $0.32 respectively. However, the stock is trading below the 200-Day moving average of $0.68.