Those who are interested in the fast-emerging sports betting and gaming industry in the United States may consider taking a look at the HeadsUp Entertainment International Inc (OTCMKTS:HDUP) stock this morning.
Trading Data
On Tuesday, HDUP stock fell 0.10% to $0.1109 with more than 694K shares, compared to its average volume of 485K shares. The stock moved within a range of $0.1051 – 0.1280 after opening trade at $0.1051.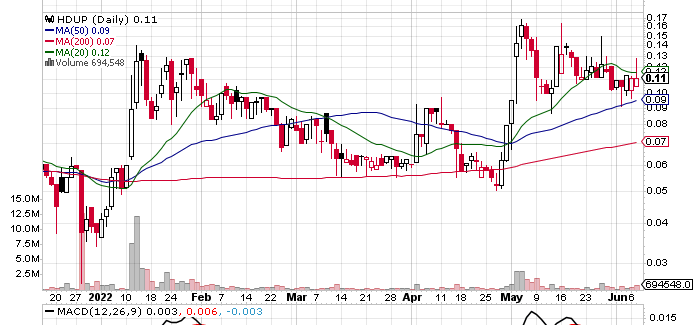 HeadsUp Entertainment Launches Sports Betting and iGaming Revenue Platforms
Yesterday, the company was in the news once again after it announced that it had been successful in launching a range of revenues generating platforms in as many as 6 states in the United States and also in the Canadian province of Ontario. The jurisdictions in which the company moved have made regulated sports betting and online gaming legal. The announcement was a significant one and could lead to a near-term boost for HeadsUp Entertainment.
The company had been established back in 2008 as a gaming company and yesterday's development was certainly a major milestone for HeadsUp.
The move into these 6 states and Ontario is a major step since it makes the company a major player in licensed sports betting markets and could help it in generating substantial revenues in the times ahead. It may be a good time for investors to add the stock to their watch lists and watch for further developments in the coming days.
Technical Data
HDUP stock is trading above the 20-Day and 50-Day Moving averages of $0.11 and $0.09 respectively. Moreover, the stock is trading above the 200-Day moving average of $0.07.