The market has been in the idle of a very tough time over the course of the past week and most of the stocks have had pretty tough times, having recorded significant declines. However, there are some exceptions to the trend and investors could do well to look into some of those.
One of the companies to have seen its stock actually do well in the past week is CBD of Denver Inc (OTCMKTS:CBDD). The stock has rallied strongly during the course of the period and managed to clock gains of as much as 42% during the period. While the wider market was tanking, the CBD of Denver stock was flying. Moreover, the stock has soared 135% over the past month.
Price Action: As of 11.40 AM, CBDD stock is trading higher by 8% at $0.0075 with more than 11.70 million shares traded hands, above its average 30-day average volume of 10.92 million.
About CBD of Denver Inc (OTCMKTS:CBDD)
The company is best known for owning Rockflower in its entirety. Rockflower is involved in the distribution of both CBD and cannabis flowers. In addition to that, it also manufactures a full range of CBD oil products. The products are distributed by the company in Switzerland and throughout the rest of Europe.
In addition to that, the Canadian company is also well known for using its equity for the purpose of making acquisitions of assets that might be available at attractive prices at any point in time. Rockflower has been the bedrock of the company's growth and has managed to help CBD of Denver in creating a significant customer base in Europe.
Company's CEO To Be Featured on Benzinga's 'All Access' Series
It has been the quality of its products that has allowed the company to achieve what it has in Europe. This morning the company has been in the news after it emerged that it was going to be featured on the All Access Series that is going to be hosted by Benzinga later this month on June 10. The event will commence at 11-20 in the morning Eastern Time. It is a series that helps investors in discovering trending stocks that could prove to be significant opportunities.
Subsidiary Mellow Signs Agreement with Australian CBD and Hemp Wellness Brand
Yesterday, it emerged that the company's subsidiary unit Mellow, which is involved in Cannabis e-commerce and marketing, inked an agreement with the company Botanic Wellness.
Botanic Wellness is a CBP and hemp wellness brand based out of Australia and it is going to help Mellow with the marketing and digital presence in the United Kingdom and European Union markets. However, that is not all. Last month on May 26 it emerged that CBD of Denver had stitched up a licensing agreement with the United Kingdom-based luxury CBD wellness brand OTO.
Management Comment
"The UK & EU consumer markets for CBD and Hemp wellness products are fast-becoming the global go-to markets and as a result we are extremely excited to be bringing the Botanic Wellness brand to life at this crucial stage of the sector's development and maturity", said Kirk Richards, Managing Director of Botanic Wellness. "We have known the mellow team for some time and given their sector experience, hands-on approach, brand-building experience and growth capabilities we are thrilled to announce this partnership", Richards continued.
Technical Analysis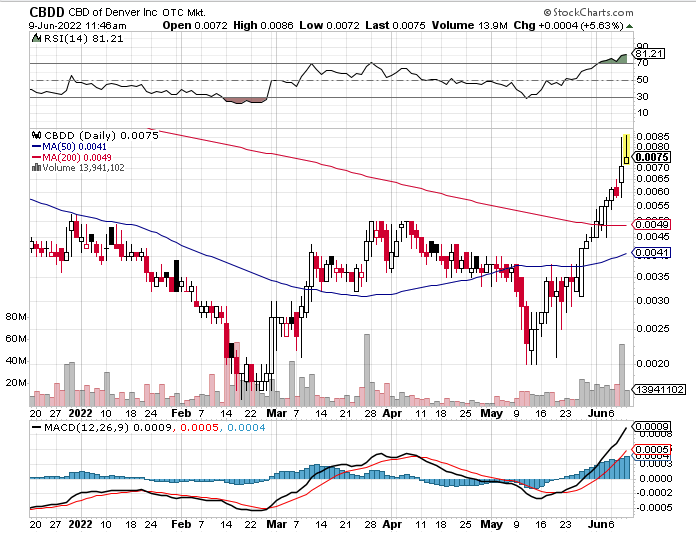 CBDD stock is in a nice breakout with the stock price trading above all the key moving average prices. The 20-day, 50-day, and 200-day moving averages are $0.0050, $0.0049, and $0.0049 respectively. However, one should note that the RSI stands at 83, which signals a short-term correction or profit booking is possible after the big jump.