Plant-based products manufacturer Healthy Extracts Inc (OTCMKTS:HYEX) was in focus among investors yesterday but not in a good way as its stock declined by as much as 10% yesterday.
Trading Data
On Wednesday, HYEX stock fell 10% to $0.0567 with more than 37K shares, compared to its average volume of 32K shares. The stock moved within a range of $0.0567 – 0.0600 after opening trade at $0.0599.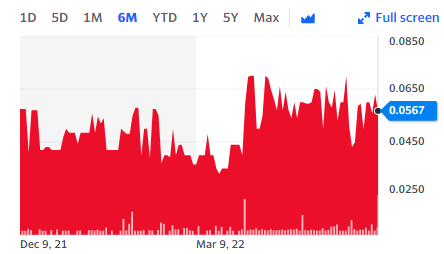 Healthy Extracts New Clinical Study Highlights UBN RELIEF Naturally Alleviates Migraine Symptoms
The company announced that it was going to have a poster presentation a key event that is going to be held in San Diego California. The event in question is the 2022 ASCM Annual Meeting that is going to be hosted by the American College of Medicine. The poster that is going to be presented at the event is titled "Effects of a Phytonutrient Complex on Migraine: Comparison of Overall Episodes to Quality of Life Factors."
The poster in question has been co-authored by Dr. Neil Wolkodoff, who is the medical program director at Colorado Center for Health and Sports Science. The poster is going to provide a lowdown on the fact the consumption of the migraine headache product from Healthy Extracts could enhance the quality of life of individuals.
The presentation of such posters at popular events can often lead to considerable publicity for a product and the company. However, the news was not seen as a major positive by investors and the stock dropped like a stone.
Key Quote
"This presentation demonstrates the importance of educating consumers about the unique benefits of Healthy Extracts' proprietary RELIEF formulation," stated Dr. Gerald M. Haase, a co-author of the poster, an advisor to Healthy Extracts, and a clinical professor of surgery at the University of Colorado School of Medicine and Children's Hospital Colorado.
Technical Data
HYEX stock is trading above the 20-Day and 50-Day Moving averages of $0.0385 and $0.0389 respectively. However, the stock is trading below the 200-Day moving average of $0.0663.