Resgreen Group International (OTCMKTS:RGGI), announced the completion of Phase I of the automated material handling system at Atlantic Precision Products (APP). Phase II will be an extension of the automated call system on a wider scale. RGGI is helping APP with the resolution of continued supply chain issues, via the extension of the automated call system.
Trading Data
On Wednesday, RGGI stock slid 9% to $0.0155 with more than 93K shares, compared to its average volume of 320K shares. The stock moved within a range of $0.0151 – 0.0162 after opening trade at $0.0160.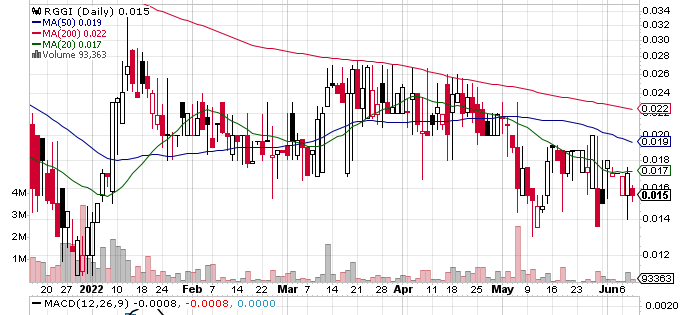 Resgreen Group Announces Completion of Phase I with Commencement of Second Phase at Atlantic Precision Products (APP)
Automation helps to minimize operating expenses while improving productivity, efficiency, and quality of the product. Other benefits include high scalability in meeting the evolving needs of companies. In Phase, I activation of transport is initiated by the operator via wireless button press at an injection molding machine. PullBuddy retrieves the full load handling frame and delivers it to the staging area. The staging area is monitored by a visual ASRS (Automatic Storage and Retrieval System) that communicates with BotWay. PullBuddy then retrieves an empty load handling frame and returns it to the operator's station.
In Phase II, RGGI will service extra machines on the factory floor. To fine-tune the automation process, even more, weight-sensing, and load handling frames will trigger BotWay's traffic control and monitoring software when they are full. Target weight can be set per machine via BotWay. Full load and empty handling frames are returned to the staging area and original machine respectively, similar to Phase I.
Key Quote
"We are pleased to be able to offer added materials and services to the Atlantic Precision Products system in order to assist with productivity and efficiency," said Parsh Patel, CEO of Resgreen Group International.
Technical Data
RGGI stock is trading below the 20-Day and 50-Day Moving averages of $0.0174 and $0.0195 respectively. Moreover, the stock is trading below the 200-Day moving average of $0.0223.