Healthcare and biotech firm SPO Global Inc (OTCMKTS:SPOM) was in the news cycle yesterday after it came up with a comprehensive discussion with regards to the medical devices that it manufactures.
Trading Data
On Wednesday, SPOM stock fell 1.05% to $0.0142 with more than 45K shares, compared to its average volume of 633K shares. The stock moved within a range of $0.0139 – 0.0142 after opening trade at $0.0139.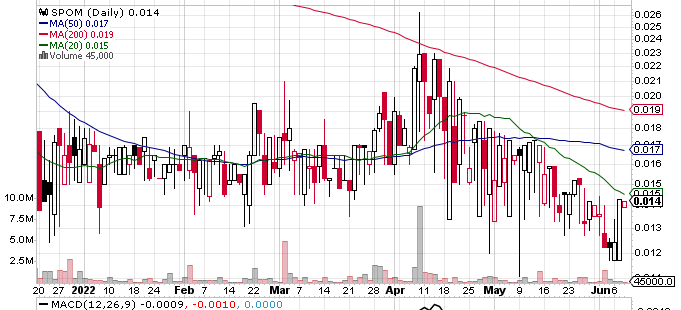 SPO Global Inc. Discusses Company's Medical Devices
The company is best known for manufacturing low-frequency therapeutic medical instruments in addition to Chinese medical technique machines. These are the two variants of machines that have contributed considerably to the growth of the company in recent times. One of the latest medical devices that SPO Global has come up with is the low-temperature small molecule lossless decocting machine. It brings about the amalgamation of intelligent doctoring tech with ultrasonic negative pressure.
It is meant for extraction at a low temperature with the use of ultrasonic. The company noted during the discussion that these machines have proven to be superior and advantageous when compared to other machines that perform the same function. The machines have already been patented in China and some of the customers include medical clinics, hospitals, and healthcare facilities based in China.
The discussion from the company was an illuminating one on Wednesday and it remains to be seen if the stock can manage to come into focus among investors today.
Key Quote
"We look forward to the completion of our projects in Shandong, Qingdao, and other places. We will continue to update our shareholders with our progress and will strive to share some photos of our work, once the ongoing lockdowns in China have been lifted," stated Fengyou Lu.
Technical Data
SPOM stock is trading below the 20-Day and 50-Day Moving averages of $0.0144 and $0.0167 respectively. Moreover, the stock is trading below the 200-Day moving average of $0.0191.