There were a number of stocks that experienced strong selloffs and one of those was the Dalrada Corporation (OTCMKTS:DFCO) stock, which ended up with a decline of as much as 10% for the day. Despite the fall in the stock price, it should be noted that the company made a pretty major announcement yesterday and it is something that investors may consider looking into.
Trading Data
On Wednesday, DFCO stock moved down 1% to $0.4545 with more than 43K shares, compared to its average volume of 100K shares. The stock moved within a range of $0.4300 – 0.4550 after opening trading at $0.44.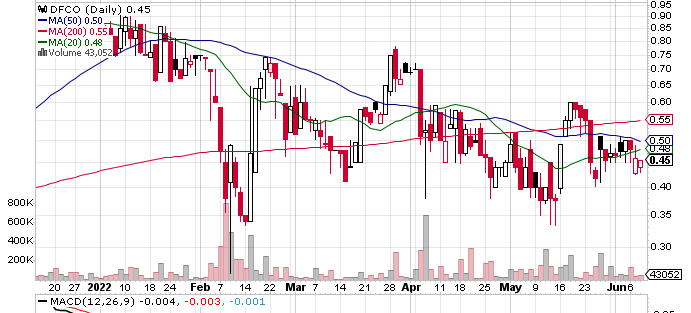 Dalrada Accelerates Its National Healthcare Model With Acquisition of Watson Rx Solutions
The company announced yesterday that it had concluded the acquisition of the firm Watson Rx Solutions Inc. The move was another demonstration of the fact that Dalrada is looking to grow aggressively as a healthcare company and has put that plan into motion in earnest.
Watson Rx is a pharmacy that has been in business for 10 years and it is going to be added to the company's subsidiary unit Dalrada Health. The company is looking to create a comprehensive healthcare ecosystem through Dalrada Health and this acquisition was a step in that very direction. It will offer the company's clients a range of new options in the healthcare space.
However, it is also necessary to remember that the news of the acquisition did not quite go down well with investors and it is going to be interesting to see if the stock can actually recover any time soon.
Key Quote
CEO and Founder, Brian Bonar, states, "Watson Rx has a long history of providing excellent pharmacy services. This acquisition allows Dalrada to expand its healthcare footprint and continue to build a total health management solution on an already successful turnkey operation. As a result, the Company will be able to successfully address the health needs of even more patients."
Technical Data
DFCO stock is trading below the 20-Day and 50-Day Moving averages of $0.47 and $0.50 respectively. Moreover, the stock is trading below the 200-Day moving average of $0.55.