It was not a great midweek in the markets for investors in Body and Mind Inc (OTCMKTS:BMMJ) as the stock suffered from a strong selloff and went down by as much as 12%.
Trading Data
On Wednesday, BMMJ stock moved down 11.70% to $0.1470 with more than 32K shares, compared to its average volume of 127K shares. The stock moved within a range of $0.1470 – 0.1680 after opening trading at $0.1597.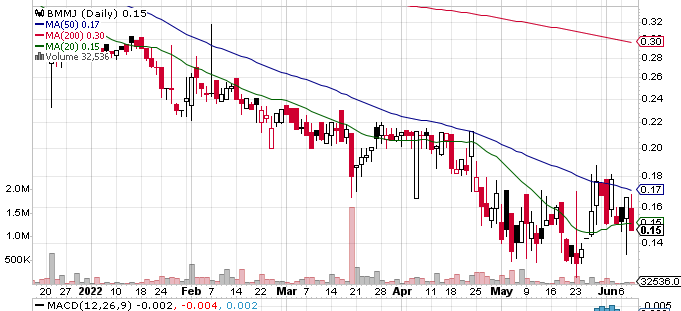 Body and Mind Expands Wholesale Operations
The cannabis company, which operates across multiple states in the United States was in the news yesterday after it provided an update with regards to the sort of growth it experienced in its wholesale business. It was announced that its operations in Ohio has continued to expand with regard to product offerings. In addition to that, Body and Mind is also looking to bring some of its Nevada-based edible products to the Ohio market soon.
On the other hand, the operations in Arkansas have also been ticking along smoothly. The phenotyping of the new cultivation strains in the state has been completed and those strains could soon be deployed in the cultivation operations in Arkansas. Last but not the least, Body and Mind announced that it had gone into a collaboration with Froot in its California operations. As per the provisions of the collaboration, customized Body and Mind products are going to be made available in all the company's dispensaries across the state.
Key Quote
"We are excited to continue expanding our proven Nevada products into the limited license states of Ohio and Arkansas", stated Michael Mills, CEO of Body and Mind. "Our team continues to produce sought after flower, extracts and edibles as we bring our deep experience and proven product portfolio from the Nevada market to our growing operations."
Technical Data
BMMJ stock is trading below the 20-Day and 50-Day Moving averages of $0.16 and $0.17 respectively. Moreover, the stock is trading below the 200-Day moving average of $0.30.