Acorn Energy Inc (OTCMKTS:ACFN) was on the radars of investors yesterday after its subsidiary unit OmniMetrix made an announcement with regards to a new partnership. OmniMetrix is known for providing remote monitoring and control services for power generators as well as for assorted industrial equipment.
Trading Data
On Wednesday, ACFN stock moved up 11.11% to $0.5000 with more than 23K shares, compared to its average volume of 23K shares. The stock moved within a range of $0.4750 – 0.5000 after opening trade at $0.4875.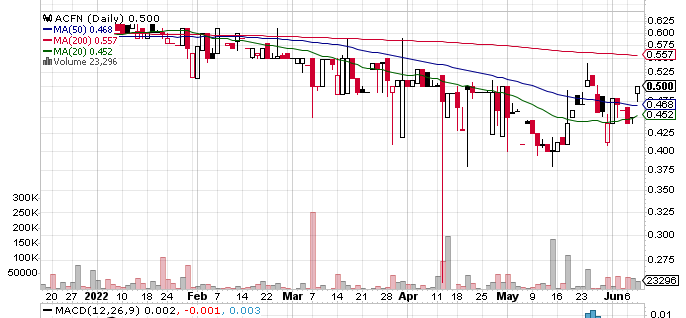 CPower and OmniMetrix Partner to Enable Standby Electric Generator Customers to Benefit from Participation in Electric Grid Relief Programs
Yesterday, the company announced that it had gone into a fresh partnership with CPower Energy Management, which is a noted energy solutions provider at a national level. By way of this partnership, the standby generator customers of the company are going to be able to become participants in electric grid demand response initiatives.
Demand response is something that helps users in getting specific rewards for having been able to save energy. In addition to that, it also helps the grid operators in meeting the rises in demand for energy from time to time.
CPower is a major company that manages as much as 5.3GW of energy capacity and serves close to 2000 customers at this point in time. The customers are spread across as many as 12000 sites. The news came as a major positive for the stock of OmniMetrix's parent company Acorn Energy, which saw its stock soar by as much as 11%.
Key Quote
Glenn Bogarde, SVP – Sales, CPower, commented, "As the weather heats up, we are seeing that grids around the country need flexible resources as defensive assets to ensure reliability, while residential, commercial, and industrial customers want grid-edge technologies to secure their resiliency. We are pleased to partner with OmniMetrix to pay generator monitoring and control customers to commit to demanding response solutions that offer benefits for both sides of the equation."
Technical Data
ACFN stock is trading above the 20-Day and 50-Day Moving averages of $0.46 and $0.47 respectively. However, the stock is trading below the 200-Day moving average of $0.56.