On Wednesday, the Pacific Green Technologies Inc (OTCMKTS:PGTK) stock had been one of the notable gainers and ended up with gains of as much as 4% amidst considerable interest. It is easy to see why the stock rallied yesterday. The company announced that it had inked an agreement with Shell Europe Energy Limited.
Trading Data
On Wednesday, PGTK stock fell 3.72% at $0.75 with 15.5K shares, compared to its average volume of 8.7K shares. The stock moved within a range of $0.7300 – 0.7700 after opening trade at $0.77.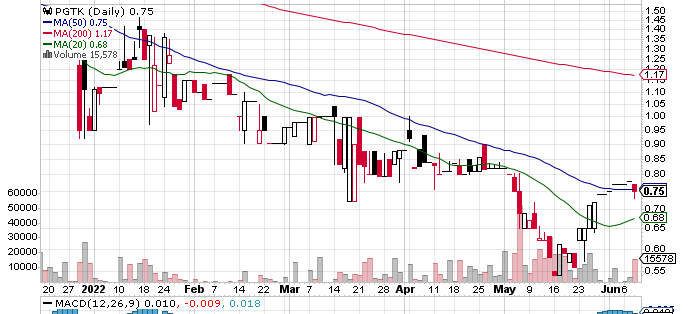 Pacific Green and Shell Enter Into Energy Optimisation Agreement for Pacific Green's 99.98 MW Richborough Energy Park Battery Development
As per the terms of the agreement, Shell is going to help the company with dispatch trading and optimization solutions related to the Richborough Energy Park battery energy storage system which has a power output of 99.98 MW. The energy part is being built by Pacific Green Technologies in Kent, England.
It should be noted that the deal stipulates that Pacific Green Technologies is going to be responsible for the maintenance, construction, and operation of the battery energy storage system. On the other hand, Shell is going to buy up the capacity and will have the exclusive rights for providing the optimization services to the energy park for the next 10 years.
The deal could well prove to be a major one for Pacific Green Technologies and its aspirations to grow in the long term. It will be interesting to see if the stock can maintain its momentum over the coming days.
Key Quote
Scott Poulter, Pacific Green's Chief Executive, commented: "As one of the world's most prominent energy providers, Shell has proven itself to be a leader in the power trading and optimization sectors. With this BESS development set to become one of the UK's largest batteries, finding an experienced and reputable optimizer is essential to the success of this project, and we are confident we have found that in Shell."
Technical Data
PGTK stock is trading above the 20-Day and 50-Day Moving averages of $0.72 and $0.75 respectively. However, the stock is trading below the 200-Day moving average of $1.17.