Well-known multi-channel streaming platform operating company Loop Media (OTCMKTS:LPTV) is one of the companies that may be looked into by investors this morning owing to a major announcement that was made yesterday.
Trading Data
On Wednesday, LPTV stock gained 1.50% to $2.70 with 14.86K shares, compared to its average volume of 2.6K shares. The stock moved within a range of $2.6500 – 2.7300 after opening trade at $2.60.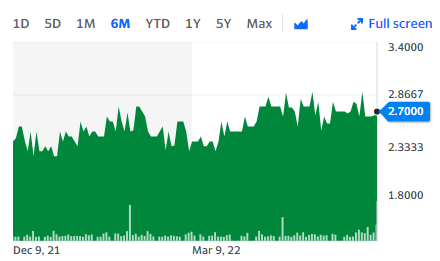 Key Details
On Wednesday the company announced that it had gone into a partnership with the firm Qonsent. Qonsent is the only platform that enables consent and works on customer trust. As per the provisions of the partnership, the first-person consent technology from Qonsent is going to be integrated into the streaming platform that is operated by Loop Media. It was an important announcement from the company and adds an important new feature to the streaming platform.
Loop Media has a number of business clients and this new feature is going to help those clients in saving a lot of time. When those clients try to access content from the streaming platform it would be quick for them to agree, comprehend and consent to sharing their data with the app. In addition to that, the clients would also have the freedom to interact directly with their customers and send out targeted advertisements after having acquired access to the first party data of customers.
Key Quote
"Data privacy continues to be one of the most significant hot-button issues for consumers, and many companies are doing themselves a disservice by trying to cobble together solutions without just creating transparency and a new connection with their customers," said Bob Gruters, Chief Revenue Officer at Loop Media. "We are all about innovation and growth, and Qonsent's solution helps us engage with our clients and establish trust while supporting the unique viewer experience demands in out-of-home environments."
Technical Data
LPTV stock is trading below the 20-Day and 50-Day Moving averages of $2.70 and $2.70 respectively. However, the stock is trading above the 200-Day moving average of $2.47.