The short videos industry has grown at a remarkable pace in recent years and one of the companies which is also engaged in the sector is Bebuzee Inc (OTCMKTS:ENGA). It not only offers a short video sharing platform but also has a streaming service of its own and yesterday the company's stock jumped by as much as 7% following a key announcement.
Trading Data
On Wednesday, ENGA stock gained 7.33% to $0.63 with more than 1.6K shares traded, compared to a volume of 17K shares. The stock moved within a range of $0.6300 – 0.7095 after opening trading at $0.7000.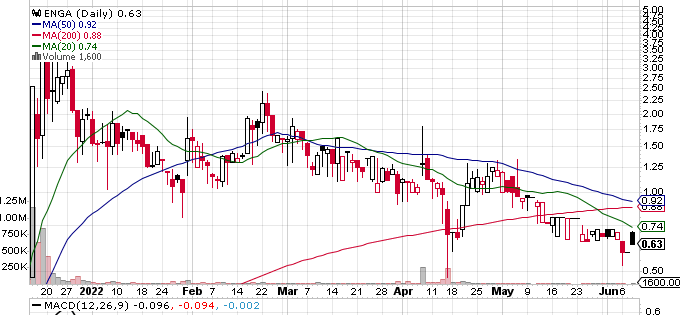 BEBUZEE, INC. (OTC Pink: ENGA) Discusses "Shortbuz" The App With Features For Creating, Sharing And Discovering Short Videos Inside Its Bebuzee Super App
Yesterday, the company made an announcement with regards to the Shortbuz feature that is going to be included in its Bebuzee 'Super App'. The app is all set to be launched at some point in the coming months.
The company noted that Shortbuz is going to help users in making short entertaining videos easily. The duration of a short form video could be as short as 15 seconds and the longest permissible one could be of two and a half minutes duration. It is quite clear that Shortbuz is going to be launched as a competitor of the behemoth of the short video industry, TikTok.
However, it should be noted that despite being competing products, there are going to be many features that are not going to be similar in nature.
Key Quote
Joseph Onyero, Chief Executive Officer of Bebuzee, Inc., said: "Shortbuz is a component in Bebuzee super app with features for creating, sharing and discovering short videos. This feature is used by young people as an outlet to express themselves through singing, dancing, comedy, and lip-syncing, and allows users to create videos and share them across a community.
Technical Data
ENGA stock is trading below the 20-Day and 50-Day Moving averages of $0.74 and $0.92 respectively. Moreover, the stock is trading below the 200-Day moving average of $0.88.