Oncology Pharma Inc (OTCMKTS:ONPH) on June 8, 2022, confirmed that the initial feasibility stage is finished, and results have met expectations for moving ahead.
Trading Data
On Wednesday, ONPH stock soared 10.20% to $1.73 with more than 81K shares, compared to its average volume of 65K shares. The stock moved within a range of $1.6000 – 1.8000 after opening trade at $1.62.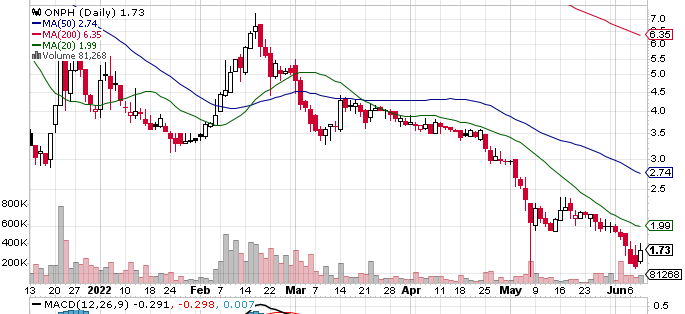 Oncology Pharma Announces: Initial Feasibility Study of the Nanoemulsion Drug Delivery System is Complete and Results Have Met the Threshold for Moving Forward To the Next Steps of Development
Formulation under development comprised API (dactinomycin), which was encapsulated in saturated lipid and combined with diverse surfactants, emulsifiers, and stabilizers.
The specific ratios and identity of the ingredients with processing parameters and methods, lead to results with distinctive characteristics.
The firm sought to acquire R&D equipment as well as establish an early-phase formulation laboratory. In addition, it looked to verify the capability of developing lipid nanoemulsions, as well as identifying promising formulations. The data gives an overview of different formulations created and assessed during the feasibility stage.
All aims were met, and the company identified two formulations feasible for more development. The ability to innovate and make progress shows the firm's capabilities in identifying developmental goals as well as overcoming formulation challenges for producing drug formulation. The characteristics include the ability of nanoemulsion to incorporate the most available drugs.
Furthermore, test methods were established at contract laboratories for supporting basic formulation as well as precisely detecting the drug concentration in control.
Oncology Pharma is committed to finding the path for furthering the development of licensed technologies as well as developing the financial model. It is reviewing the feasibility of some initial applications to the FDA.
Technical Data
ONPH stock is trading below the 20-Day and 50-Day Moving averages of $2.03 and $2.74 respectively. However, the stock is trading below the 200-Day moving average of $6.35.