Ultrack Systems, Inc. (OTCMKTS:MJLB) provides GPS tracking and other solutions for commercial fleets.  Yesterday, the company released a string of Twitter updates about the company's updated website including a new product page for one of its most promising products, the Driveline ELD.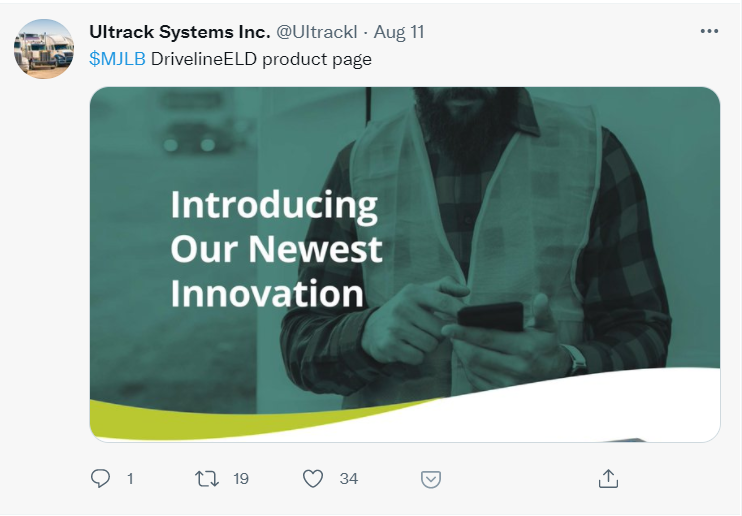 The Driveline ELD is an Electronic Logging Device, which is a piece of hardware used to record driving time for commercial motor vehicles. It plugs into a vehicle's onboard diagnostics (OBD) port and captures data on the vehicle's engine, location, speed, miles driven, and more. Under the ELD mandate, the Federal Motor Carrier Safety Administration (FMCSA) requires that most commercial vehicles have an ELD.
In many countries, these mandates are new, including Canada, on the subject MJLB CEO Marsbergen was quoted saying: "One Driveline ELD device will perform multiple protocols and change between Canadian and USA mandates automatically upon border crossing. I maintain that our device will be an industry disruptor and likely to become the new standard in fleet tracking and management. Our product simply does more while offering easy options for using different options."
Ultrack submitted updated paperwork and an NDA for ELD recently with a new government-certified testing agency. This new testing process will also be certifying the DrivelineELD for the USA market at the same time; therefore, when the Ultrack product hits the market, it will be certified for use in both the USA and Canada, immediately.
Currently, MJLB's stock is on a bullish trajectory, the stock is up 26% over the past 5 sessions, and momentum could continue. Make sure MJLB is on your radar.