In recent days, Clearday Inc (OTCMKTS:CLRD) has been in significant focus among investors and that becomes apparent when one looks into the price action in its stock. Yesterday, the stock was in action once again and ended up with gains of 4% for the day and that rally took its gains for the past week to as much as 20%.
Trading Data
On Tuesday, CLRD stock gained 4.20% to $2.50 with more than 20K shares, compared to its average Tuesday of 3.7K shares. The stock moved within a range of $2.1800 – 2.9800 after opening trading at $2.41.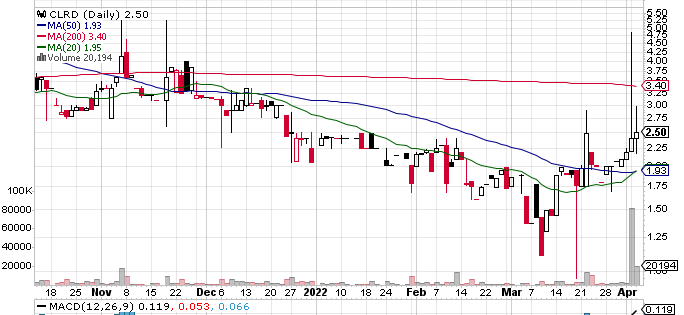 Clearday, Inc. To Offer Benefits With Association Health Partners
As it happens, the company was in fact in the news yesterday when it announced that it started the marketing efforts for its product Clearday at the Home Digital care service. The marketing is being managed by Association Healthcare Partners so that the sales of Clearday could be sped up by way of Home Working with AHP.
It was a major new move from the company and it was no surprise that it led to a fair degree of optimism among investors. The Chief Executive Officer of Clearday, James Walesea spoke about the matter as well. He noted that through this marketing effort, the members of the Independent Route Drivers Association of America are going to benefit directly. It could be one of the early steps by way of which a large number of elderly people could be benefitted through Clearday.
Key Quote
James Walesa CEO of Clearday said, "Offering our digital care services to IRDAA member is a great first step to helping as many older Americans as possible to age at home in a manner that is safe and comfortable for clients and their family members. Clearday at Home offers a low cost alternative to support Americans Aging in the Right Place."
Technical Data
CLRD stock is trading above the 20-Day and 50-Day Moving averages of $2.04 and $1.93 respectively. However, the stock is trading below the 200-Day moving average of $3.40.