Yesterday, Oconee Financial Corporation (OTCMKTS:OSBK) was in the news cycle after it announced its financial results for the first fiscal quarter of the year. It should be noted that the figures are unaudited.
Trading Data
On Thursday, OSBK stock ended flat at $43.58 with more than 10K shares traded, compared to volume of 177 shares. The stock moved within a range of $43.58 – 43.58 after opening trading at $44.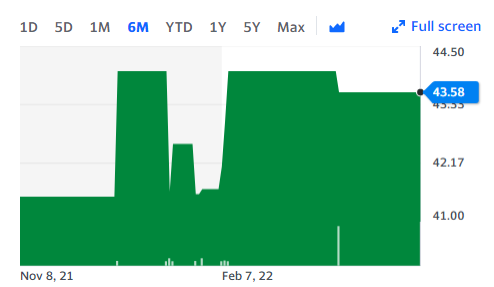 Oconee Financial Corporation Reports First Quarter 2022 Results
On the other hand, the announcement of the financial results did not lead to any move in the Oconee Financial stock, which remained within a range yesterday. It may be a good idea for investors to now take a look at some of the highlights from the financial results and then make their minds up one way or another.
In the three month period that ended on March 31, 2022, the company managed to bring in net income of as much as $590376, which worked out to earnings per share of $0.66. However, at the same time, it ought to be noted that in the year ago period the company had generated net income to the tune of $824221 and that worked out to earnings per share of $0.92. That reflected a year on year decline of 28.4%. The decline in net income was primarily due to the decline in net interest income for Oconee Financial. It may be a good idea to keep an eye on the stock today.
Key Quote
Neil Stevens, President and Chief Executive Officer of Oconee, commenting on the first quarter's results noted, "the decline in earnings for the first quarter compared to last year's first quarter reflects the decline in PPP fee income over this period. We believe the first quarter 2022 results are representative of the true earnings of the bank given the relatively small amount of PPP fee income recognized in this year's first quarter. The recording of unrealized losses in the bond portfolio is due to the recent unprecedented rise in interest rates in the first quarter. This is a prevalent issue in the banking industry. These losses are unrealized and do not impact regulatory capital ratios."