When a company reports massive growth then it almost always has a significant effect on the stock and that is what happened with NiSun International Enterprise Development Group Co (NASDAQ:NISN), Ltd stock on Tuesday.
Trading Data
On Tuesday, NISN stock surged 32.71% to $0.8131 with more than 3.70 million shares, compared to its average volume of 406K shares. The stock moved within a range of $0.6121 – 0.8900 after opening trade at $0.6121.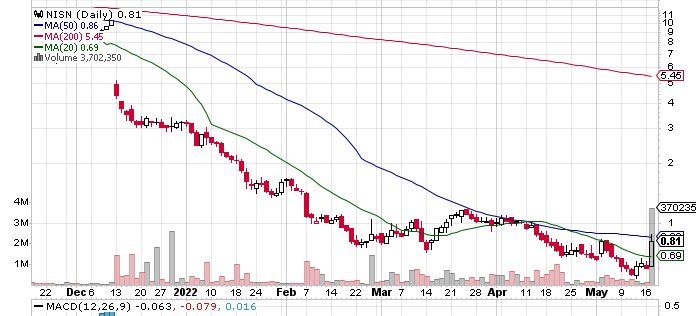 NiSun Shares Post 280% Revenue Growth In FY21
The company came into sharp focus among investors yesterday after it announced its financial results for the fiscal year of 2021. NiSun announced that it had managed to bring in as much a $160.2 million in the form of revenues and that worked out to growth of as much as 280% from the previous fiscal year. Such a jump in growth was welcomed by investors as well and the NiSun stock rocketed by as much as 132% on Tuesday as investors piled on to it in a big way.
The revenues generated by the company from financial services alone came in at $92.1 million and that reflected year on year growth of as much as 118%. On the other hand, the supply chain trading business managed to bring in as much as $68.1 million during the course of the fiscal year. Earnings per share stood at $1.41 a share and that was again a major improvement from the loss of $0.71 per share in the previous year.
Key Quote
Mr. Xiaoyun Huang, Chairman and Chief Executive Officer of Nisun International, commented, "We are pleased to report strong overall performance in 2021, as revenue increased by 280% and net income from continuing operations more than tripled that of 2020.
Technical Data
NISN stock is trading below the 50-Day and 200-Day Moving averages of $0.86 and $5.45 respectively. Moreover, the stock is trading above the 20-Day moving average of $0.71.