America-based commercial space firm Momentus Inc (NASDAQ:MNTS) was on the radars of investors yesterday after it made a key announcement and the stock ended the day with gains of as much as 6% as a consequence.
Trading Data
On Wednesday, MNTS stock gained 6.27% to $2.71 with 881K shares, compared to a volume of 4.45 million shares. The stock moved within a range of $2.4200 – 2.7400 after opening trade at $2.58.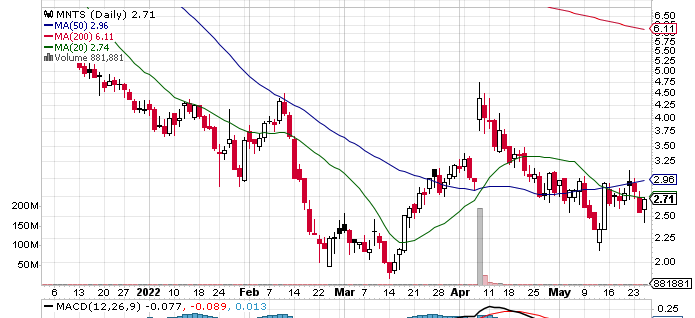 Key Details
The company seeks to provide transportation and other services in space. Yesterday, it announced that it had launched the first flight of the Vigoride orbital transfer vehicle. The flight had been sent to low earth orbit onboard the SpaceX Transporter 5 Mission. The development was a significant one and led to considerable enthusiasm among investors.
However, that was not all. The company also announced yesterday that it had been successful in planting its very first customer satellite in the orbit. On top of that, Momentus also noted that it was looking to conduct even more customer payload deployments over the course of the coming days.
At this point, the double announcement is likely going to bring the Momentus stock onto the radars of more investors. Hence, it could be a good idea for investors to consider adding the stock to their watch lists.
Key Quote
"Today's launch was the culmination of months of work to conduct an extensive ground test campaign, ready the spacecraft, and obtain the necessary government licenses and approvals for our first flight of the Vigoride vehicle," said Momentus Chief Executive Officer John Rood. "We're excited to see our vision of providing transportation and space infrastructure services and being an early provider of these key services to the growing new space economy starting to be realized."
Technical Data
MNTS stock is below the 20-Day and 50-Day Moving averages of $2.78 and $2.96 respectively. Moreover, the stock is trading below the 200-Day moving average of $6.11.