If there is one stock that could be put into the watch lists by investors at this point in time then it may be the EarthRenew Inc (OTCMKTS:VVIVF) stock.
Trading Data
On Friday, VVIVF stock moved down 5.56% to $0.2210 with more than 100K shares traded, compared to its average volume of 54K shares. The stock moved within a range of $0.2180 – 0.2520 after opening trading at $0.2520.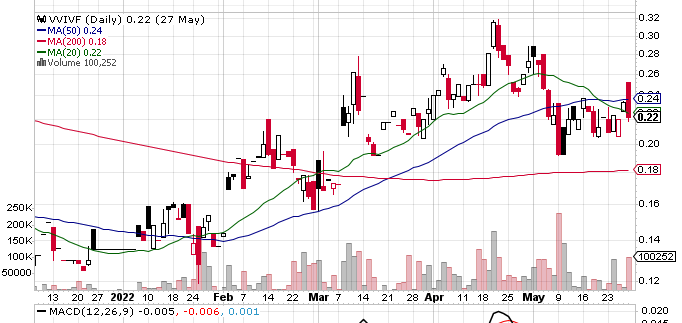 Earnings Recap
The company is best known for being the seller of Replenish Nutrients, which is regarded as one of the top regenerative fertilizers in the market at this point. Yesterday, the Canadian company had been in the news after it announced its financial results for the first fiscal quarter. The most important takeaway from the financial results was the fact that the company managed to generate record revenues.
EarthRenew managed to bring in revenues to the tune of as much as $3.1 million for the period and that was a major jump from the revenues of only $500,000 during the prior-year period.
Hence, it would be no wonder if the stock ends up on many investors' watch lists. Due to the rise in the price of raw materials owing to the Russian invasion of Ukraine, Replenish Nutrients has managed to emerge as an affordable alternative for many farmers. The company suffered a net loss of $14 million for the quarter but that was largely due to the work related to the new Beiseker plant.
Key Quote
"With strong product demand in our existing markets of central and northern Alberta, Replenish Nutrients is pleased to have outperformed historic revenue in this quarter, especially since this is typically a low revenue season," stated EarthRenew CEO, Keith Driver.
Technical Data
VVIVF stock is trading below the 20-Day and 50-Day Moving averages of $0.23 and $0.24 respectively. However, the stock is trading above the 200-Day moving average of $0.18.