Last Friday, SPO Networks Inc (OTCMKTS:SPOI) enjoyed a strong rally in the markets and its stock ended the day with gains of as much as 22% as a consequence.
Trading Data
On Friday, SPOI stock increased 21.94% to $1.89 with more than 752 shares, compared to its average volume of 2.5K shares. The stock moved within a range of $1.5500 – 1.8900 after opening trade at $1.55.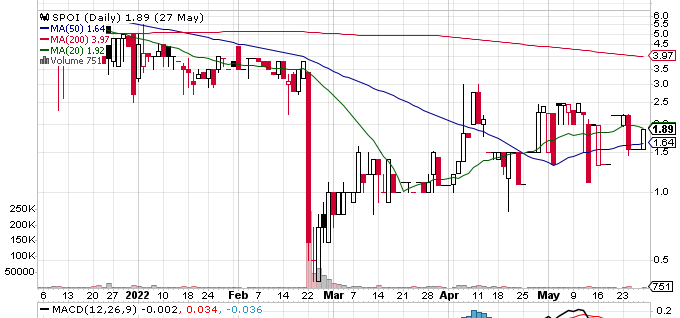 SPO Networks, Inc. (SPOI) Timely Files First Quarterly Report On OTCMarkets; Shows Pretax Income From Operations Of $1.48 Million+ During First Quarter 2022
While it is true that there was no news about the company on Friday, it should be noted that the day before, SPO Networks had announced that it had been successful in filing its financial results for the first fiscal quarter that ended on March 31, 2022, in a timely manner. It was an important development for the company and was perhaps an indication that the company had grown far more responsible as a business entity.
The Chief Executive Officer of the company Tom Smith spoke about SPO Networks' current situation as well. He noted that the numbers showed that the company was growing rapidly. During that quarter, SPO managed to bring in pre-tax income to the tune of $1.487672 million and that was a considerably higher figure than the $648,449 that it had generated in the prior-year period under the same overhead. The net income for the quarter stood at $179,180. It remains to be seen if the stock can continue to add to its gains today.
Key Quote
Tom Smith CEO of SPO Networks Inc. said: "Our filing shows that we are growing at an increased pace, adding assets we and hope to continue substantial growth through next quarter and beyond."
Technical Data
SPOI stock is trading above the 20-Day and 50-Day Moving averages of $1.81 and $1.64 respectively. However, the stock is trading below the 200-Day moving average of $3.97.