One of the stocks that may make for an interesting proposition for investors at this point in time is of HeadsUp Entertainment International Inc (OTCMKTS:HDUP). Last Friday, the stock had gone into a downward spiral and declined by as much as 4% amidst a selloff.
Trading Data
On Friday, HDUP stock moved down 4.50% to $0.1170 with more than 650K shares, compared to its average volume of 471K shares. The stock moved within a range of $0.1161 – 0.1300 after opening trading at $0.1182.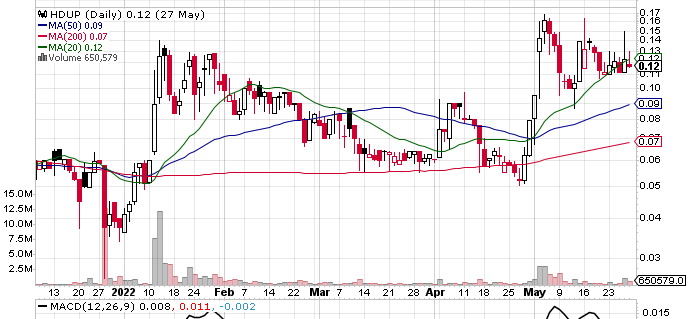 HeadsUp Entertainment Closes Major Partnership in UAE – New Subsidiary Created to Monetize Global Digital Marketplace
However, in this regard, it ought to be noted that despite the latest decline, it is still up by as much as 7% in the past week. In this context, it is important for investors to take a look at the announcement made by the company back on May 26.
HeadsUp Entertainment International announced on that day that it had managed to get into a partnership agreement with the United Arab Emirates-based MetaVerse Vision Group FZE LLC. By way of this particular agreement, a new subsidiary was created by the company named HeadsUp Ventures FZ UAE.
In this new entity, HeadsUp Entertainment International is going to have a 49% stake and it seems that the news had come as a bullish trigger for investors at the time. It is going to be interesting to see if the HeadsUp Entertainment International stock can make a recovery over the coming days.
Technical Data
HDUP stock is trading above the 20-Day and 50-Day Moving averages of $0.11 and $0.09 respectively. Moreover, the stock is trading above 200-Day moving average of $0.07.