The Alpha Energy Inc (OTCMKTS:APHE) stock may have been trading within a range yesterday but it is important for investors to keep in mind that the company also made a major announcement that could have a bearing on the stock.
Trading Data
On Tuesday, APHE stock ended flat at $4 with more than 1.2K shares, compared to a volume of 1.6K shares. The stock moved within a range of $3.7500 – 4.0000 after opening trade at $4.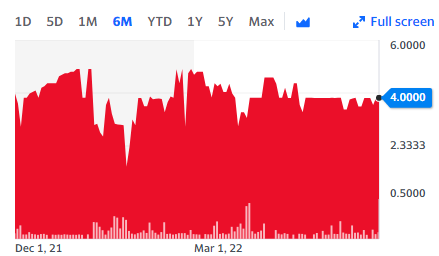 Alpha Energy, Inc. Enters Into Definitive Agreement To Acquire 7 Producing And 21 Additional Oil And Gas Well Bores In Seminole County, Oklahoma
The company announced yesterday that it had completed an agreement yesterday with regards to the acquisition of as many as 28 oil and gas wells in addition to other assets that are situated at the Mercury Project located in Seminole County in Oklahoma. The company noted that it was last week on May 26, 2022, that it had entered into definitive agreements with a number of sellers for the purpose of acquiring these assets.
As per the terms of the agreement, Alpha Energy will have a 75% interest in the project and will operate it as well. The rest of the stake is going to be owned by a private entity, which would not have any operational interest. The total purchase price for the acquisitions was $750,000 and Alpha Energy already made a cash payment of $562500 towards the same. It now remains to be seen if the Alpha Energy stock gains any interest or not.
Key Quote
Jay Leaver, the President, said, "Similar to the Coral Project (see press release March 15, 2022) the Mercury Project is an acquisition featuring multiple shallow target zones with good infrastructure and existing production to be acquired at a competitive price. Additionally, the 80 acres of surface land will allow Alpha to establish a yard for its operations in Oklahoma. Together with the Coral and Mercury Projects, both of which have existing production and multiple wellbores suitable for restarts and re-works, will allow Alpha to cover both overhead and financing costs as it moves toward an uplisting onto a major stock exchange this year. Alpha is fulfilling its promise to its shareholders to establish a substantial and dynamic oil and gas company with deep expertise in development operations, exploration, and finance."
Technical Data
APHE stock is trading above the 20-Day and 50-Day Moving averages of $3.91 and $3.99 respectively. Moreover, the stock is trading above the 200-Day moving average of $3.93.