Herbal supplements firm Ayujoy Herbals Ltd (OTCMKTS:AJOY) is one of the companies that could be of interest to investors at this point owing to the significant announcement it made yesterday.
Trading Data
On Tuesday, AJOY stock slid 6.21% to $0.0314 with 1.5K shares, compared to its average volume of 9.9K shares. The stock moved within a range of $0.0314 – 0.0314 after opening trade at $0.0314.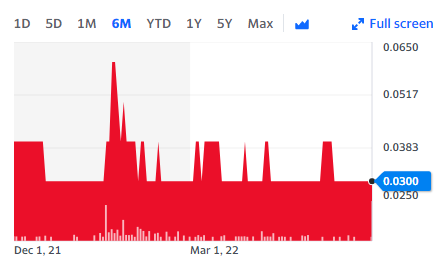 Ayujoy Herbals Ltd. and Anthea, Inc. Announce Product Sourcing and Marketing Collaboration
The company announced yesterday that it had managed to get into a collaboration agreement with the firm Syaala LLC. As per the terms of this agreement, the two companies are going to be involved in the task of sourcing drinks, herbal supplements, and healthy snacks, which are then going to be distributed to a range of convenience stores as well as major retail chains across the United States.
The announcement was a significant one from Ayujoy and the collaboration might eventually lead to a significant boost for the company in the long run.
However, it did not lead to any joy for investors as the Ayujoy stock remained within a range yesterday. That being said, it ought to be noted that stocks trading within a range can often break out too, and hence, it may be a good idea for investors to keep an eye on the Ayujoy stock over the course of the coming days. The deal could herald a new era for Ayujoy.
Key Quote
"We are delighted to enter into a partnership with Ayujoy and use their expertise in sourcing new and exotic health products from Europe and Asia," said Srilatha Namburi, CEO of Anthea Inc. "Ayujoy's commitment to quality within the health product space and eye-catching branding will help set us apart in a fiercely competitive landscape. We look forward to sharing their strong product vision and commitment to quality, with big-box retail, while also building an incredibly sustainable revenue channel for the joint venture."
Technical Data
AJOY stock is trading above the 10-Day and 20-Day Moving averages of $0.0304 and $0.0307 respectively. However, the stock is trading below the 200-Day moving average of $0.0398.