Over the course of the past week, Health Advance Inc (OTCMKTS:HADV) has seen its stock take a beating and decline by as much as 17% during the period. In this sort of situation, it may be important for investors to figure out if the slide is going to continue or if a reversal in fortunes could happen any time soon.
Trading Data
On Tuesday, HADV stock fell 0.40% to $0.0498 with 11.27K shares, compared to its average volume of 21K shares. The stock moved within a range of $0.0401 – 0.0500 after opening trade at $0.0450.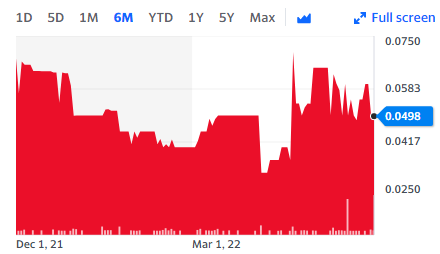 Health Advance Introduces the President of its CBD Wine Beverage Brand, 66° Beverage Company
As a matter of fact, the company was in fact in the news yesterday after it introduced the President of its latest brand 66 Beverage Company, David Katz. It is one of the latest brands launched by the company and it is going to be involved in the CBD laced wine beverage space.
Katz is going to be the Chief Executive Officer for the brand, which would be launched soon through the Health Advance joint venture Courtship Wines. In this regard, it should be noted that the operating results of 66 Beverage Company are going to be part of Health Advance's results only.
At this point in time, 66 Beverage Company is looking to produce a total of 60000 bottles of the product in three different variants. It remains to be seen if this development has any effect on the stock or not.
Key Quote
Mr. Katz comments on the imminent launch, "We are excited about the launch but also calm at the same time. That's because we know what we are doing. We've planned carefully, but with a lot of creativity. People in food distribution know me and are keen to get involved with this innovative product launch. They realize that we are not stopping at our first three varietals. This company is going to be an innovation engine in the sector. Our partners will prosper tapping into our unique energy, and our brand will broaden its reach because of these partners. We'll have information out about the next steps soon."
Technical Data
HADV stock is trading below the 20-Day and 50-Day Moving averages of $0.0550 and $0.0498 respectively. Moreover, the stock is trading below the 200-Day moving average of $0.0562.