Leading PropTech firm, MetroSpaces Inc (OTCMKTS:MSPC), on May 31, 2022, announced augmenting of assets under management with the Indianapolis real estate purchase.
Trading Data
On Tuesday, MSPC stock ended flat at $0.0002 with more than 30.51 million shares, compared to its average volume of 44.83 million shares. The stock moved within a range of $0.0001 – 0.0002 after opening trade at $0.0002.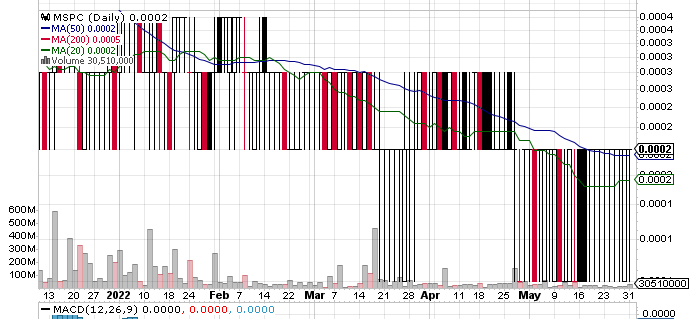 Metrospaces Increases Assets Under Management Through Indianapolis Acquisition
The company, which combines world-class real estate development organizations to reinvent the real estate industry using Blockchain, AI, and other technologies, confirmed the acquisition of ten single-family homes. This is in addition to the initial two properties taken in November 2021. The extra units are located in Indianapolis, Indiana, and will be part of the Metrohouse platform focusing on developing co-living spaces in secondary cities.
The company's first focus is tenant experience, giving turn-key service for a low monthly fee. The service has modern furnished units with shared spaces for tenant socialization, private rooms as well an exceptional user experience.
Mr. Oscar Brito, CEO of Metrospaces said that the firm is planning to launch in quarter two of the year 30 units for lease. The company is looking to have a total of 120 to 150 units for rent with more launches in the coming quarters.
The company's technology platform allows investors and homeowners to transform the property into Co-Living facilities, using blockchain, AI, and other technologies for enhanced end-to-end management and administration, greater transparency, and security property rental transactions.MetroSpaces is looking at tokenizing offerings to democratize capital markets through the expansion of property ownership for smaller investors.
Technical Data
MSPC stock is trading below the 20-Day and 50-Day Moving averages of $0.0002 and $0.0002 respectively. Moreover, the stock is trading below the 200-Day moving average of $0.0005.