Despite trading in a range, a stock may still not be worth avoiding if there is any important news about the underlying company hence, it may be a good idea to take a look at the Brownie's Marine Group Inc (OTCMKTS:BWMG) this morning.
Trading Data
On Tuesday, BWMG stock gained 0.52% to $0.0390 with more than 12K million shares, compared to its average volume of 31K shares. The stock moved within a range of $0.0385 – 0.0390 after opening trade at $0.0385.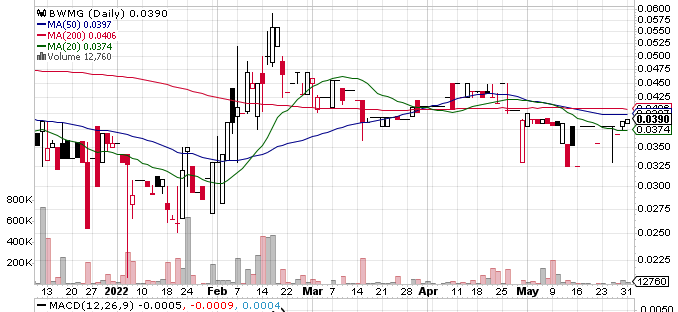 Brownie Marine : Announces 107.5% Increase in Revenues for Q1-2022 vs. Q1-2021 – Form 8-K
The stock was in a range on Tuesday, but the company had announced its financial results for the first fiscal quarter that had ended on March 31, 2022. Although investors did not react either way to the company's performance, it should be noted that the performance was quite strong.
Brownie Maine managed to bring in revenues to the tune of as much as $1.97 million for the first fiscal quarter and that worked out to a year-on-year rise of as much as 107.5% from the revenues of $950700 in the first quarter of 2021.
On the other hand, the net losses for the period remained flat year on year and it remains to be seen how analysts react to that particular development. However, the adjusted net loss for the period actually went up to $178,600 for the period from $97,500 in the prior-year period.
Key Quote
Chris Constable, CEO of Brownie's Marine Group, Inc. stated, "We continue to grow across all business segments and are pleased so far with our Q1-2022 results in comparison to where we were a year ago. Our growth continues to be supercharged by our Blu3 division, so much so, that we decided to front-load into Q1 the investments necessary to continue that pace of growth throughout the rest of the year." Mr. Constable continued, "making those aggressive expenditures in expanding brand recognition this quarter swung us towards a small loss, but we think it's well worth it to facilitate the pace of growth that we are having in that division in particular."
Technical Data
BWMG stock is trading below the 20-Day and 50-Day Moving averages of $0.0380 and $0.0397 respectively. Moreover, the stock is trading below the 200-Day moving average of $0.0406.