The news of a new contract can always come as a boost to a company's stock and hence, the Healthier Choices Management Corp (OTCMKTS:HCMC) stock could well be the one to watch today. On Tuesday, the company announced that it had managed to bad an exclusive contract with the firm Elevated Living.
Technical Data
HCMC stock is trading above the 20-Day and 50-Day Moving averages of $0.0002 and $0.0002 respectively. However, the stock is trading below the 200-Day moving average of $0.0004.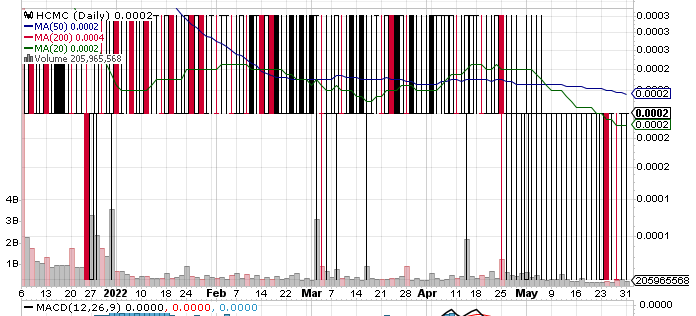 Trading Data
On Tuesday, HCMC stock ended flat at $0.0002 with more than 205.96 million shares, compared to its average volume of 375.89 million shares. The stock moved within a range of $0.0001 – 0.0002 after opening trading at $0.0002.
Key Details
As per the provisions of the contract, Healthier Choices Management Corp will be responsible for providing in-home IV Therapy Treatments at the nine luxury condominiums that Elevated Living manages in Fort Lauderdale in Florida. Elevated Living is one of the leaders in its industry and is a vertically integrated business.
At this point in time, Elevated Living is responsible for the management of as many as 250 luxury properties spread across as many as 20 states. Hence, it could be said that the contract signed by Healthier Choices Management Corp could well prove to be the start of a larger contract if things go according to plan.
Jeff Holman, the Chief Executive Officer of Healthier Choices Management Corp noted that everyone at the company was thrilled at the possibility of providing services from the Healthier Choices Wellness Center to Elevated Living properties.
Key Quote
Konrad Koczwara, CEO of Elevated Living had this to say, "The Healthy Choice Wellness Center offering fits quite well with the wants and needs of our luxury and health conscious-based clientele. We are pleased to offer their services in Fort Lauderdale and are looking forward to expanding our relationship as HCMC continues to open additional Healthy Choice Wellness Centers in additional states in which we operate."