The eSports sector has grown at a rapid rate in recent times and if anyone is looking for options in that sector this morning, then it may be a good move to start tracking the GGTOOR Inc (OTCMKTS:GTOR) stock.
Trading Data
On Tuesday, GTOR stock soared 90.34% to $0.0394 with more than 40.24 million shares, compared to its average volume of 1.48 million shares. The stock moved within a range of $0.0227 – 0.0469 after opening trade at $0.0230.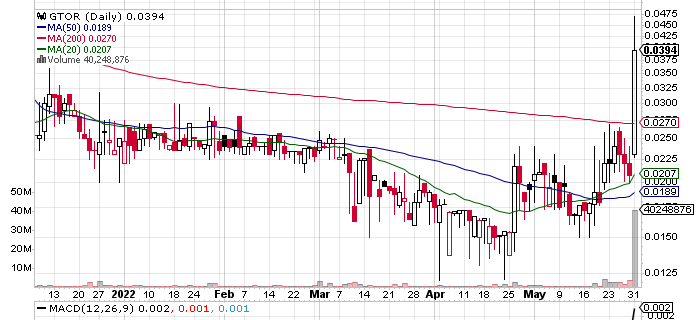 GGTOOR, Inc., (OTCMKTS:GTOR) Announces Management Report for the Week Ended May 28, 2022
The GGTOOR stock emerged as one of the biggest movers on Tuesday and ended up with gains of as much as 90% as investors piled on to it in a big way. The rally in the stock came about yesterday after the company announced that it had been successful in signing a new deal worth as much as $100,000,000. Hence, the remarkable rally in the stock was perhaps not a major surprise.
The company further announced that on June 14 it was going to launch its product GGTOORCITY on the Metaverse and that is something that could again prove to be a major move.
It should be noted that GGTOORCITY is going to be made up of as many as 2145 parcels of land for the commercial variant and will be used for the production of a total of 4144 parcels of residential and commercial variants. It remains to be seen if the GGTOOR stock can manage to hold on to its momentum today.
Key Quote
GGToor Inc., founder/CEO has this to say: "This deal has been in the works for months and it involved hundreds of moving parts. The structure was critical because Regulation A, which the Company has a qualified registration, does not allow Regulation A shares to be used for acquisitions. I also did not want to burden the Company with massive debt. When full details of this deal are announced on June 14, 2022, at 9:00 AM EST, it will become clear to all shareholders how this structure is extremely beneficial to the Company and subsequently its shareholders. Our shareholders have been incredibly patient and understanding and I cannot think of a better way of rewarding those wonderful people than being able to announce a deal has finally been made. It is my sincere hope that we have thousands of individuals tune into our Zoom call on June 14, 2022, at 9:00 AM EST when I will disclose all details and officially open our Metaverse to buyers."
Technical Data
GTOR stock is trading above the 20-Day and 50-Day Moving averages of $0.0219 and $0.0189 respectively. Moreover, the stock is trading above the 200-Day moving average of $0.0270.